Shock Theater – Episode 53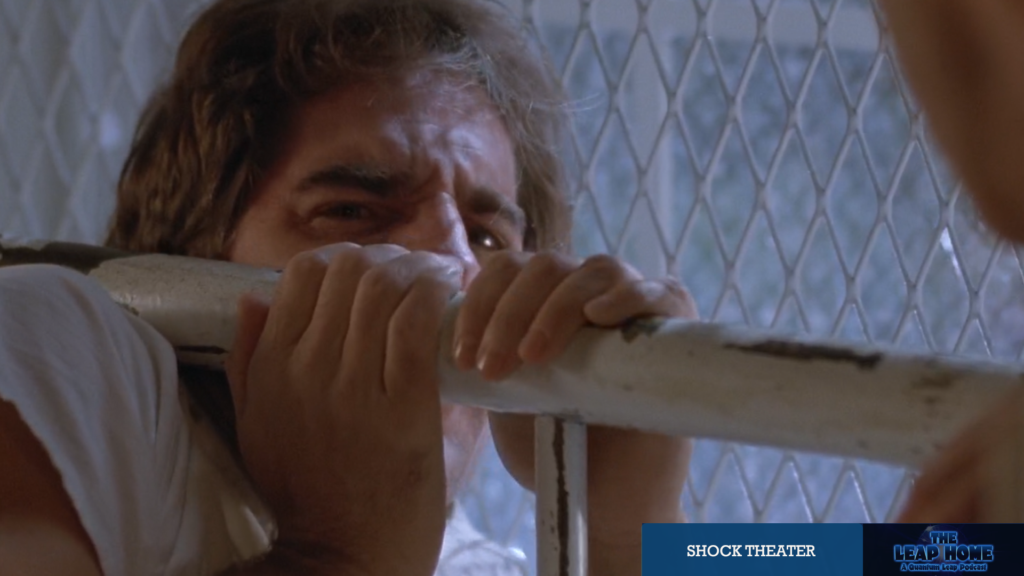 Shock Theater was the final episode of Quantum Leap's third season to air, with Sam struggling to overcome the effects of electric shock therapy. In this episode Gerry and Iain discuss the ethics of experimental medicine.
Podcast: Play in new window | Download
Subscribe: Apple Podcasts | Google Podcasts | Spotify | Amazon Music | Android | RSS
Sam leaps into Sam Beiderman, a depressive man in the mid-50s who has been committed to a psychiatric hospital in Pennsylvania for treatment. We initially see him given unauthorised shock treatment by an orderly named Butch (Bruce A. Young) over the objections of Nurse Chatham (Lee Garlington).
When Al shows up he finds Sam slipping between the personalities of previous leapees – but also that he is visible to other patients including Tibby (Scott Lawrence). As a Dr Masters (David Proval) tries to probe Sam's condition, Al tries to complete his task and prompt a leap he hopes will resolve the problems caused by the shock therapy.
Shock Theater was directed by Joe Napolitano, the seventh of his twelve episodes. The story was by Deborah Pratt.
In this episode Gerry and Iain considered the cross-cultural appeal of old white men rapping.
The discussion continues in the comments below and please keep in touch with us on Twitter, Facebook and Instagram.
You can listen to the show here on the website, on Apple Podcasts, Spotify, YouTube, Pocket Casts, TuneIn, Stitcher, Google or wherever you find your podcasts.
Shock Theater was released in 1991. It is 45 minutes long and originally aired on the NBC network. It can be viewed on NBC's Peacock streaming service in the UK and in the United States. The show is available on DVD and Blu Ray in other countries.
---