Nuclear Family – Episode 52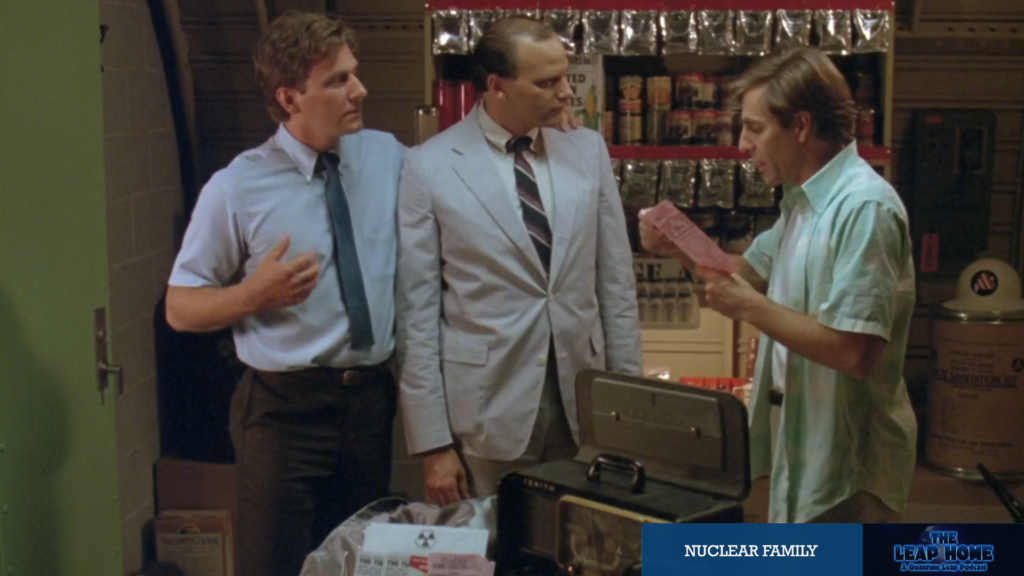 Nuclear Family was the twenty first episode of Quantum Leap's third season to air, with Sam trying to calm a family feeling the stress of the Cuban Missile Crisis. In this episode Gerry and Iain discuss the benefits of brainwashing your children.
Podcast: Play in new window | Download
Subscribe: Apple Podcasts | Google Podcasts | Spotify | Amazon Music | Android | RSS
Sam leaps into Eddie Ellroy, the younger brother of nuclear bunker salesman Mac (Timothy Carhart). Sam is staying with Mac, his wife Kate (Kim Flowers) and their children Stevie (Robert Hy Gorman) and Kimberly (Candace Hutson).
Recognising the family is petrified about the prospect of imminent nuclear annihilation, Sam seeks to calm everyone down using his knowledge of the future, but with mixed results. Ultimately he must avoid neighbour Burt 'the Turtle' (Kurt Fuller) from being acccidentally shot when a raid is announced one evening.
Nuclear Family was directed by James Whitmore Jr., the seventh of his fifteen episodes. The story was by Paul Brown, the tenth of his thirteen for the show.
In this episode Gerry and Iain considered how to fight fallout with a firearm.
The discussion continues in the comments below and please keep in touch with us on Twitter, Facebook and Instagram.
You can listen to the show here on the website, on Apple Podcasts, Spotify, YouTube, Pocket Casts, TuneIn, Stitcher, Google or wherever you find your podcasts.
Nuclear Family was released in 1991. It is 45 minutes long and originally aired on the NBC network. It can be viewed on NBC's Peacock streaming service in the UK and in the United States. The show is available on DVD and Blu Ray in other countries.
---