Heart of a Champion – Episode 51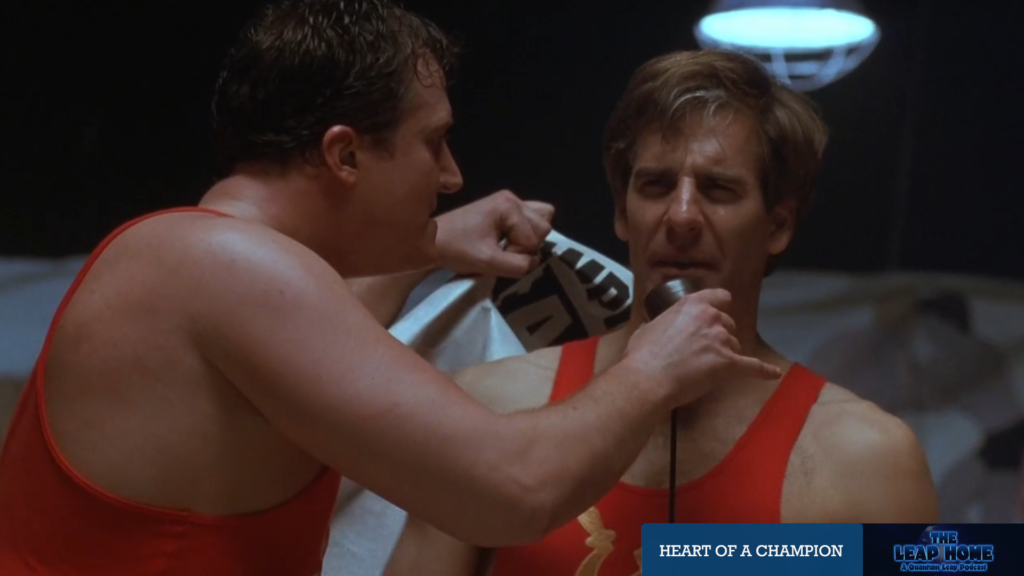 Heart of a Champion was the twentieth episode of Quantum Leap's third season to air, with Sam forming part of a wrestling tag team on the verge of both glory and tragedy. In this episode Gerry and Iain discuss making a heel turn.
Podcast: Play in new window | Download
Subscribe: Apple Podcasts | Google Podcasts | Spotify | Amazon Music | Android | RSS
Sam leaps into pro wrestler Terry Sammis, who fights alongside his brother Ronny (Jerry Bossard) and is managed by their mother, Lottie (Angela Paton). After Sam surprisingly eliminates a rival, the chance comes for their team to face the champions in a crucial match.
After rejecting the advances of Sherry Shilo (Deborah Wakeham), Sam and Ronny have to face her husband Carl (Terry Funk) in the squared circle with their lives and the championship belts on the line. Unknown to Ronny, Sam plans to go it alone to make sure his brother survives.
Heart of a Champion was directed by Joe Napolitano, the sixth of his twelve episodes. The story was by Tommy Thompson, the sixth of his thirteen for the show.
In this episode Gerry and Iain considered the physics of a sleeper hold.
The discussion continues in the comments below and please keep in touch with us on Twitter, Facebook and Instagram.
You can listen to the show here on the website, on Apple Podcasts, Spotify, YouTube, Pocket Casts, TuneIn, Stitcher, Google or wherever you find your podcasts.
Heart of a Champion was released in 1991. It is 45 minutes long and originally aired on the NBC network. It can be viewed on NBC's Peacock streaming service in the UK and in the United States. The show is available on DVD and Blu Ray in other countries.
---