Last Dance Before an Execution – Episode 50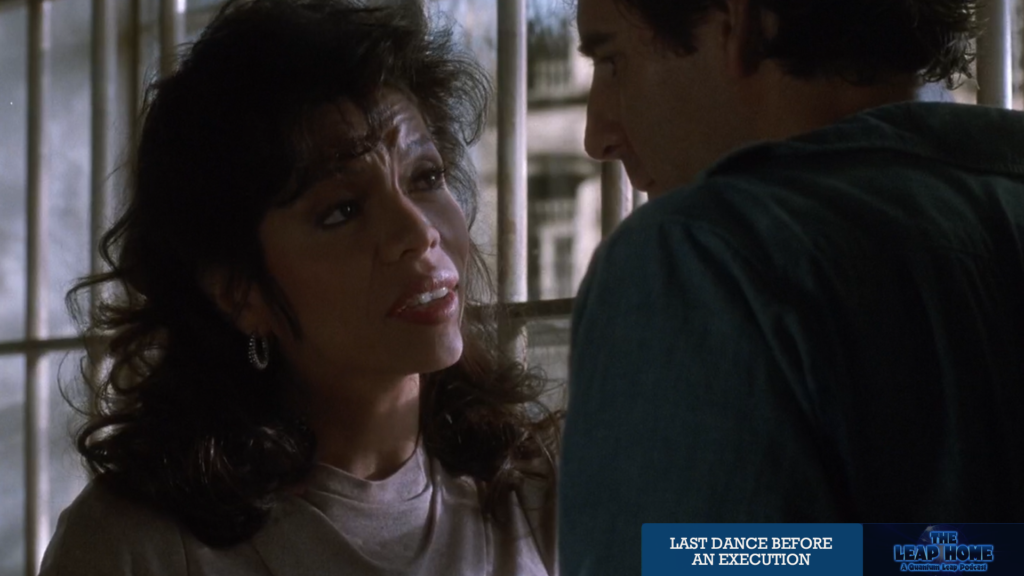 Last Dance Before an Execution was the nineteenth episode of Quantum Leap's third season to air, with Sam hoping to prove his innocence and evade the electric chair. In this episode Gerry and Iain discuss an eye for an eye.
Podcast: Play in new window | Download
Subscribe: Apple Podcasts | Google Podcasts | Spotify | Amazon Music | Android | RSS
Sam leaps into death row convict Jesus Ortega moments before his execution. At the last moment he is granted a 48-hour stay giving Sam time to work with rebel prosecutor Margerita Lorrea Tearsa (Jenny Gago) and try to prove Jesus' innocence, along with that of his co-accused Raul Casta (Julio Oscar Mechoso).
Locating a bullet, missing since the time of the original crime, seems like a long-shot, but when Al leads a child to the correct spot it seems a miracle may take place, threatening the political run of DA Theodore Moody (James Sloyan). The ballistics report, however, may tell a different story.
Last Dance Before an Execution was directed by Michael W. Watkins, the second of his six stints on the show. The story was credited to Donald P. Bellisario, Deborah Pratt and Bill Bigelow, the latter's only work for the show.
In this episode Gerry and Iain considered the value of evidence provided under duress.
The discussion continues in the comments below and please keep in touch with us on Twitter, Facebook and Instagram.
You can listen to the show here on the website, on Apple Podcasts, Spotify, YouTube, Pocket Casts, TuneIn, Stitcher, Google or wherever you find your podcasts.
Last Dance Before an Execution was released in 1991. It is 45 minutes long and originally aired on the NBC network. It can be viewed on NBC's Peacock streaming service in the UK and in the United States. The show is available on DVD and Blu Ray in other countries.
---