Glitter Rock – Episode 48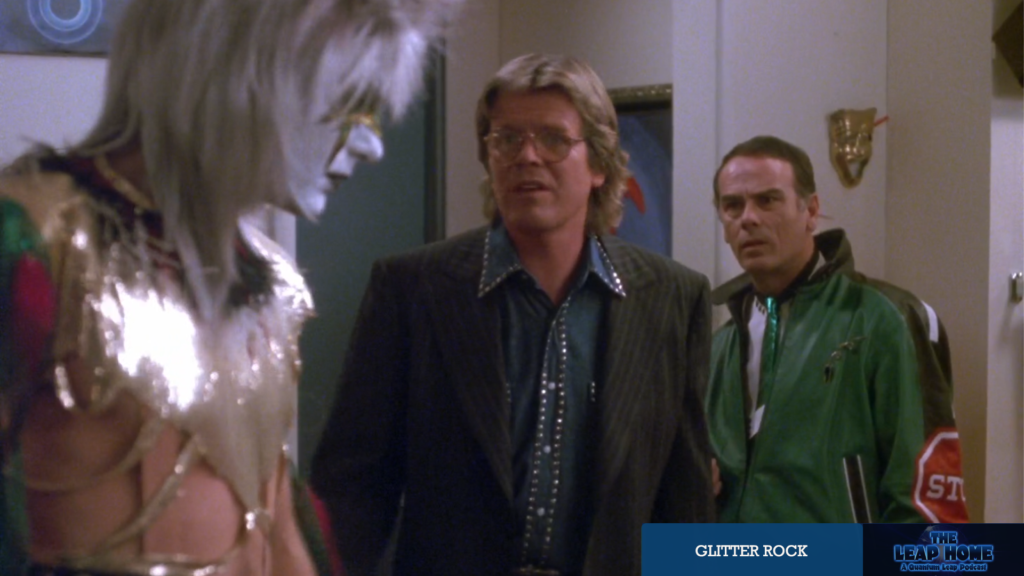 Glitter Rock was the seventeenth episode of Quantum Leap's third season to air, with Sam fronting a glam rock band and trying to solve his own murder before it happens. In this episode Gerry and Iain discuss the joys of fatherhood.
Podcast: Play in new window | Download
Subscribe: Apple Podcasts | Google Podcasts | Spotify | Amazon Music | Android | RSS
Sam leaps into 'Tonic', the leader of a glam rock band called King Thunder who seems to have a rivalry with his bandmate 'Flash' McGrath (Jon Gries). After overcoming concerns about learning the band's songs, Sam learns that Tonic is due to be murdered.
Flash is a suspect, along with band manager Dwayne (Peter Noone) and a mysterious kid called Philip (Christian Hoff) who shows up at all their gigs and later claims to be Tonic's son. Sam's task is to work out which of them is the assassin before the deed can be done.
Glitter Rock was directed by Andy Cadiff, the second of his three stints in the chair. The writer was Chris Ruppenthal, stepping back out of the director's chair to pen the sixth of his ten scripts for the show.
In this episode Gerry and Iain considered some heartfelt song lyrics.
The discussion continues in the comments below and please keep in touch with us on Twitter, Facebook and Instagram.
You can listen to the show here on the website, on Apple Podcasts, Spotify, YouTube, Pocket Casts, TuneIn, Stitcher, Google or wherever you find your podcasts.
Glitter Rock was released in 1991. It is 45 minutes long and originally aired on the NBC network. It can be viewed on NBC's Peacock streaming service in the UK and in the United States. The show is available on DVD and Blu Ray in other countries.
---