Piano Man – Episode 46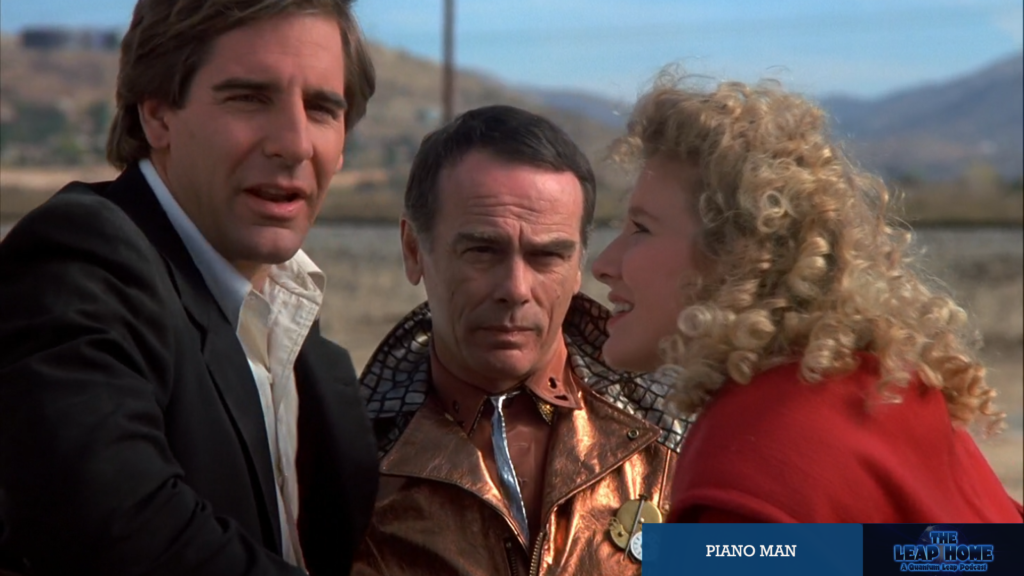 Piano Man was the fifteenth episode of Quantum Leap's third season to air, with Sam trying to avoid an assassin and nurse an old flame. In this episode Gerry and Iain discuss whether a person can be unlucky.
Podcast: Play in new window | Download
Subscribe: Apple Podcasts | Google Podcasts | Spotify | Amazon Music | Android | RSS
Sam leaps into a musician called Joey DiNardo and soon finds himself in the company of Lorraine (Marietta DePrima) his former partner, both musically and romantically speaking. She is looking for closure ahead of her planned marriage to Carl (Angelo Tiffe).
Quickly becoming the focus of a trained killer (George Marshall Ruge), Sam and Lorraine must weave across the country, repairing their personal relationship as they go, but when Carl's true identity is revealed it paves the way to a dramatic final showdown.
Piano Man was directed by James Whitmore Jr, the sixth of his fifteen episodes for the series. The writer was Ed Scharlach, his only contribution to the show.
In this episode Gerry and Iain considered the art of disappearance.
The discussion continues in the comments below and please keep in touch with us on Twitter, Facebook and Instagram.
You can listen to the show here on the website, on Apple Podcasts, Spotify, YouTube, Pocket Casts, TuneIn, Stitcher, Google or wherever you find your podcasts.
Piano Man was released in 1991. It is 45 minutes long and originally aired on the NBC network. It can be viewed on NBC's Peacock streaming service in the UK and in the United States. The show is available on DVD and Blu Ray in other countries.
---