Private Dancer – Episode 45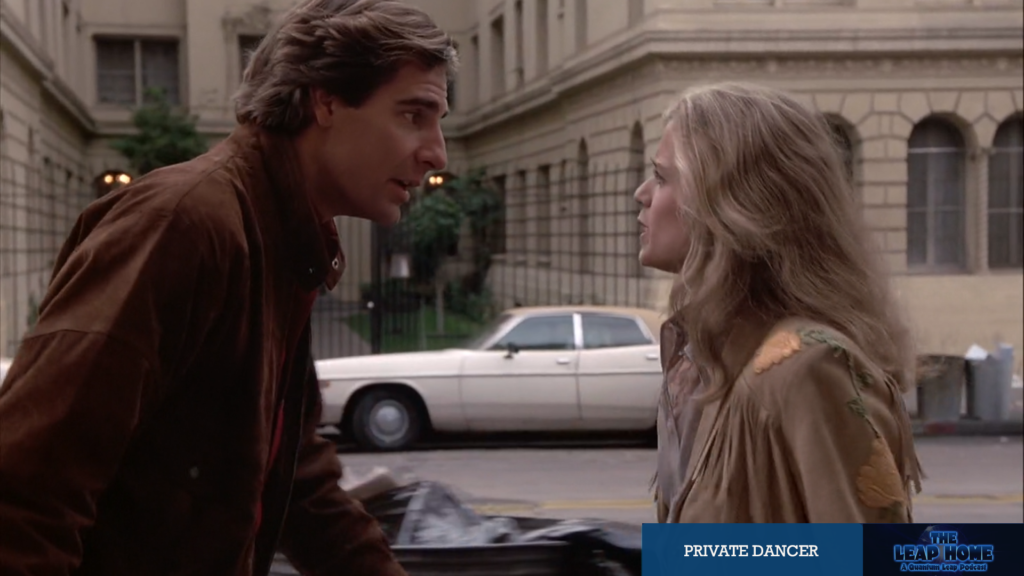 Private Dancer was the fourteenth episode of Quantum Leap's third season to air, with Sam trying to help a young deaf girl avoid a life of prostitution and death from AIDS. In this episode Gerry and Iain discuss how to get someone's attention.
Podcast: Play in new window | Download
Subscribe: Apple Podcasts | Google Podcasts | Spotify | Amazon Music | Android | RSS
Sam leaps into a Chippendale dancer called Rod 'the bod' McCarty. Working in a club, he encounters a young deaf waitress called Diana (Rhondee Beriault) who he learns is being pushed into stripping and ultimately prostitution by club owners Mario (Louis Mustillo) and Valerie (Heidi Swedberg).
Learning of open auditions to a dance school run by Joanna Chapman (Debbie Allen), Sam tries to guide Diana along a less damaging path, but is met with resistance – not least because of his clumsy approach to the situation.
Private Dancer was directed by Debbie Allen, the first of her two episodes for the series. The writer was Paul Brown, the ninth of his 13 scripts for the show.
In this episode Gerry and Iain considered what constitutes a respectable profession.
The discussion continues in the comments below and please keep in touch with us on Twitter, Facebook and Instagram.
You can listen to the show here on the website, on Apple Podcasts, Spotify, YouTube, Pocket Casts, TuneIn, Stitcher, Google or wherever you find your podcasts.
Private Dancer was released in 1991. It is 45 minutes long and originally aired on the NBC network. It can be viewed on NBC's Peacock streaming service in the UK and in the United States. The show is available on DVD and Blu Ray in other countries.
---