8½ Months – Episode 43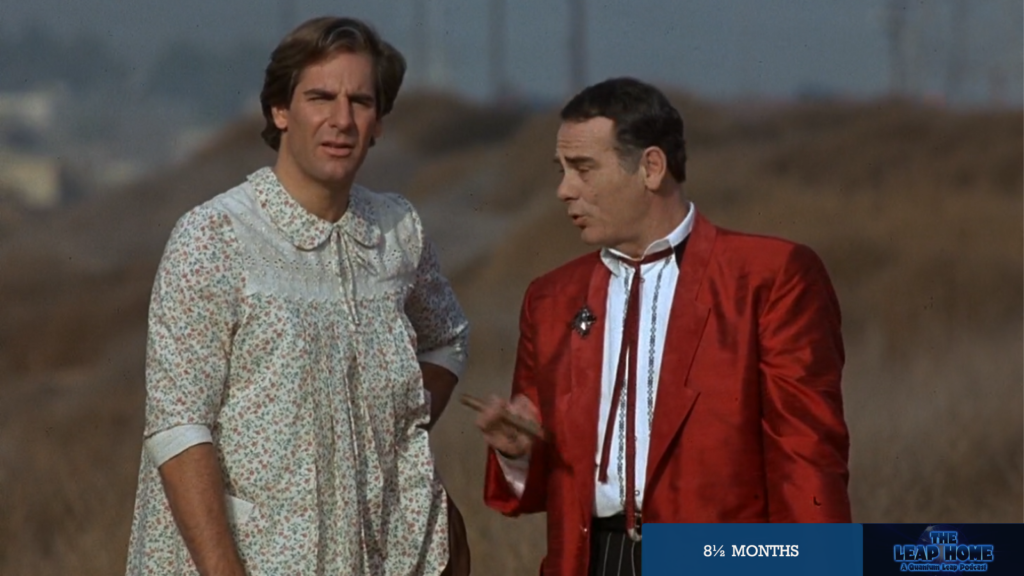 8½ Months was the twelfth episode of Quantum Leap's third season to air, with Sam experiencing the symptoms of pregnancy as he tries to help a young mother-to-be secure a home for herself and her baby. In this episode Gerry and Iain discuss parental responsibilities.
Podcast: Play in new window | Download
Subscribe: Apple Podcasts | Google Podcasts | Spotify | Amazon Music | Android | RSS
Sam leaps into Billie Jean, a pregnant teenager, who is on the verge of giving birth to a baby she wants to keep. With support from her friend Dotty (Lana Schwab) she has coped to this stage despite the disapproval of her father (James Whitmore Jr.) and people like Dotty's partner Keeter (Hunter von Leer).
Rejecting the idea of adoption, despite the advice of agency worker Cassy Thailer (Anne Haney), Sam confronts the baby's father, Willis (Philip Linton) before being rushed to hospital while her friend Effy (Tasha Scott) tries to persuade Billie Jean's father to rally to her side.
8½ Months was directed by James Whitmore Jr, the fifth of his fifteen episodes for the series. The writer was again Deborah Pratt.
In this episode Gerry and Iain considered the limits of friendship.
The discussion continues in the comments below and please keep in touch with us on Twitter, Facebook and Instagram.
You can listen to the show here on the website, on Apple Podcasts, Spotify, YouTube, Pocket Casts, TuneIn, Stitcher, Google or wherever you find your podcasts.
8½ Months was released in 1991. It is 45 minutes long and originally aired on the NBC network. It can be viewed on NBC's Peacock streaming service in the UK and in the United States. The show is available on DVD and Blu Ray in other countries.
---