Runaway – Episode 42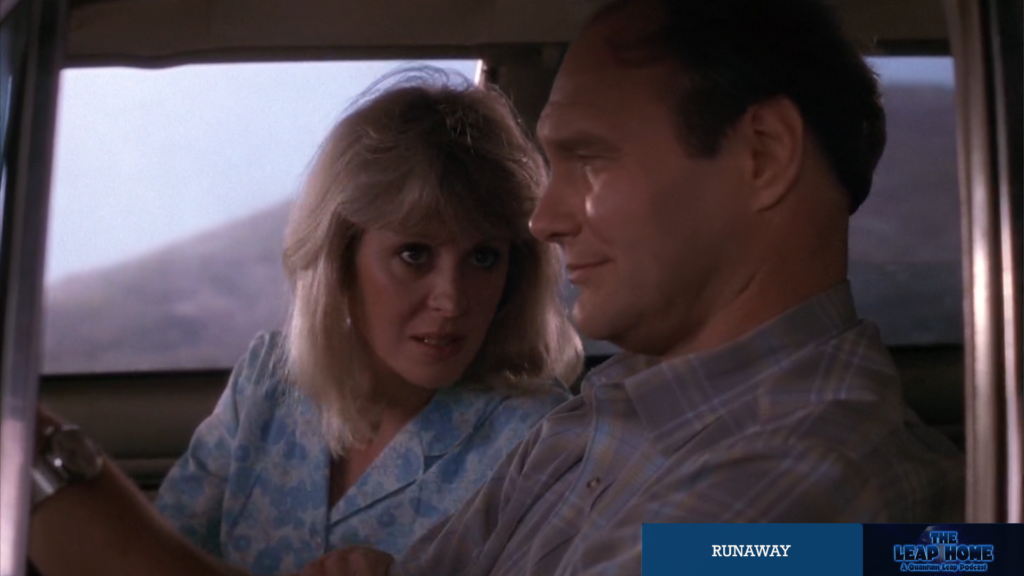 Runaway was the eleventh episode of Quantum Leap's third season to air, with Sam trying to prevent a woman's disappearance. In this episode Gerry and Iain discuss family dynamics.
Podcast: Play in new window | Download
Subscribe: Apple Podcasts | Google Podcasts | Spotify | Amazon Music | Android | RSS
Sam leaps into a young boy on a family holiday with his sister Alex (Ami Foster), his father Hank (Sherman Howard) and his frustrated mother, Emma (Sandy Faison). The group are travelling from Florida to California and back, with a strict itinerary to stick to.
On the road they encounter an old school friend of Emma and Hank's called Billy McCann (Joseph Hacker) and his daughter, Beth (Amber Susa). When Al and Sam think they see sparks between Billy and Emma they try to intervene and save the family, but things reach a head when Emma can't be found that evening.
Runaway was directed by Michael Katleman, his only work for the series. The writer was, once again, Paul Brown.
In this episode Gerry and Iain considered whether women should receive an education.
The discussion continues in the comments below and please keep in touch with us on Twitter, Facebook and Instagram.
You can listen to the show here on the website, on Apple Podcasts, Spotify, YouTube, Pocket Casts, TuneIn, Stitcher, Google or wherever you find your podcasts.
Runaway was released in 1991. It is 45 minutes long and originally aired on the NBC network. It can be viewed on NBC's Peacock streaming service in the UK and in the United States. The show is available on DVD and Blu Ray in other countries.
---