Rebel Without a Clue – Episode 40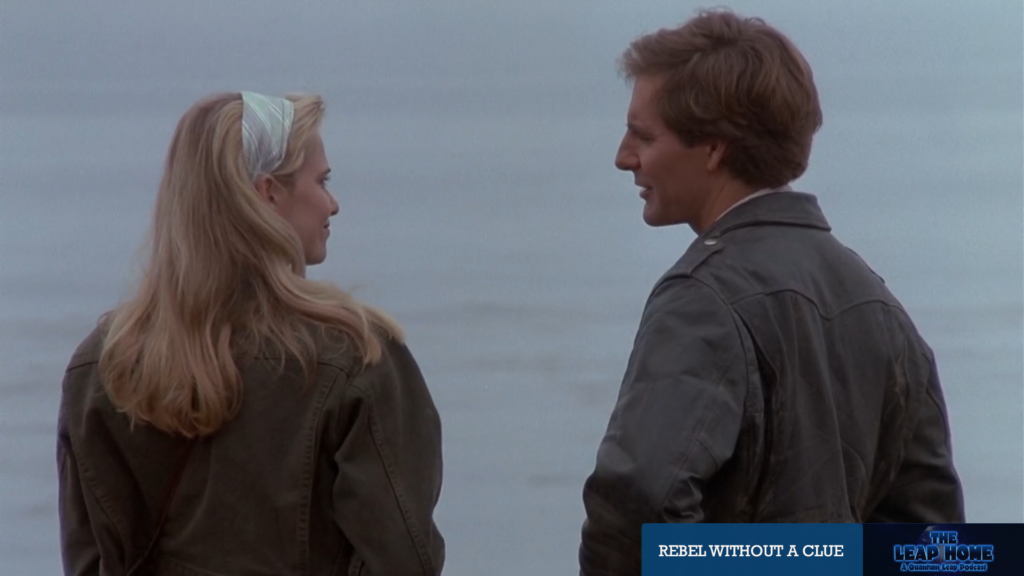 Rebel Without a Clue was the ninth episode of Quantum Leap's third season to air, with Sam enlisting the help of Jack Kerouac to get a dreamer back on a sensible track. In this episode Gerry and Iain discuss freedom and the open road.
Podcast: Play in new window | Download
Subscribe: Apple Podcasts | Google Podcasts | Spotify | Amazon Music | Android | RSS
Sam leaps into a wisecracking motorcycle gang member with one eye on the leader, Dillon's (Diedrich Bader), girl Becky (Josie Bissett). When Al informs him he's there to save her from dying at Dillon's hands he takes steps to win her attention.
When Dillon and his sidekicks, including Mad Dog (Mark Boone Jr) decide to teach Sam a lesson he leans on a sympathetic diner owner called Ernie (Teddy Wilson) for shelter before turning to the enigmatic writer Jack Kerouac (Michael Bryan French) to persuade Becky not to rejoin Dillon on the road.
Rebel Without a Clue was directed by James Whitmore Jr., the fourth of his fifteen directorial credits on the series. The writers were Paul Brown and Randy Holland.
In this episode Gerry and Iain considered whether motorcycle gangs are cool or not.
The discussion continues in the comments below and please keep in touch with us on Twitter, Facebook and Instagram.
You can listen to the show here on the website, on Apple Podcasts, Spotify, YouTube, Pocket Casts, TuneIn, Stitcher, Google or wherever you find your podcasts.
Rebel Without a Clue was released in 1990. It is 45 minutes long and originally aired on the NBC network. It can be viewed on NBC's Peacock streaming service in the UK and in the United States. The show is available on DVD and Blu Ray in other countries.
---