The Great Spontini – Episode 39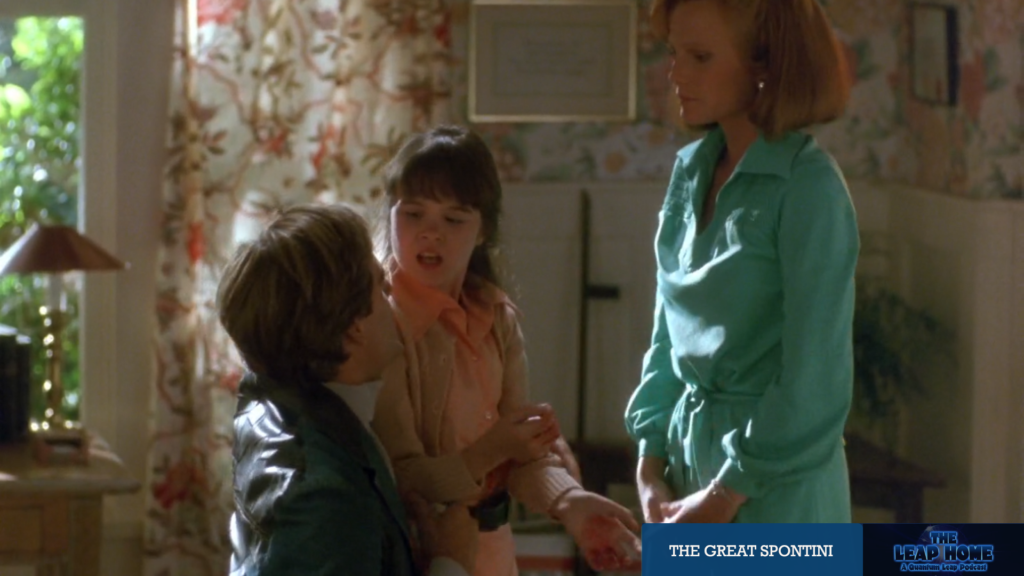 The Great Spontini was the eighth episode of Quantum Leap's third season to air, with Sam endeavouring to reunite a family and protect a father-daughter relationship. In this episode Gerry and Iain discuss the value of a traditional family unit.
Podcast: Play in new window | Download
Subscribe: Apple Podcasts | Google Podcasts | Spotify | Amazon Music | Android | RSS
Sam leaps into a touring magician who lives and works with his twelve year old daughter, Jamie (Lauren Woodland). On the verge of their big break, perhaps, life is thrown into turmoil when Jamie's mother Maggie (Amy Steel), who walked out on the family three years earlier, returns.
Maggie is chaperoned by her new fiancé Steve (Erich Anderson), a sleazy, slimy lawyer who always gets what he wants. With Steve intent on cutting Jamie's father out of her life, Sam decides the best solution is to reunite with Maggie, if only he can persuade her to go along with his plan.
The Great Spontini was directed by James Whitmore Jr., the third of his fifteen directorial credits on the series. The writing credits went to Cristy Dawson and Beverly Bridges.
In this episode Gerry and Iain considered what makes a good home.
The discussion continues in the comments below and please keep in touch with us on Twitter, Facebook and Instagram.
You can listen to the show here on the website, on Apple Podcasts, Spotify, YouTube, Pocket Casts, TuneIn, Stitcher, Google or wherever you find your podcasts.
The Great Spontini was released in 1990. It is 45 minutes long and originally aired on the NBC network. It can be viewed on NBC's Peacock streaming service in the UK and in the United States. The show is available on DVD and Blu Ray in other countries.
---