Black on White on Fire – Episode 38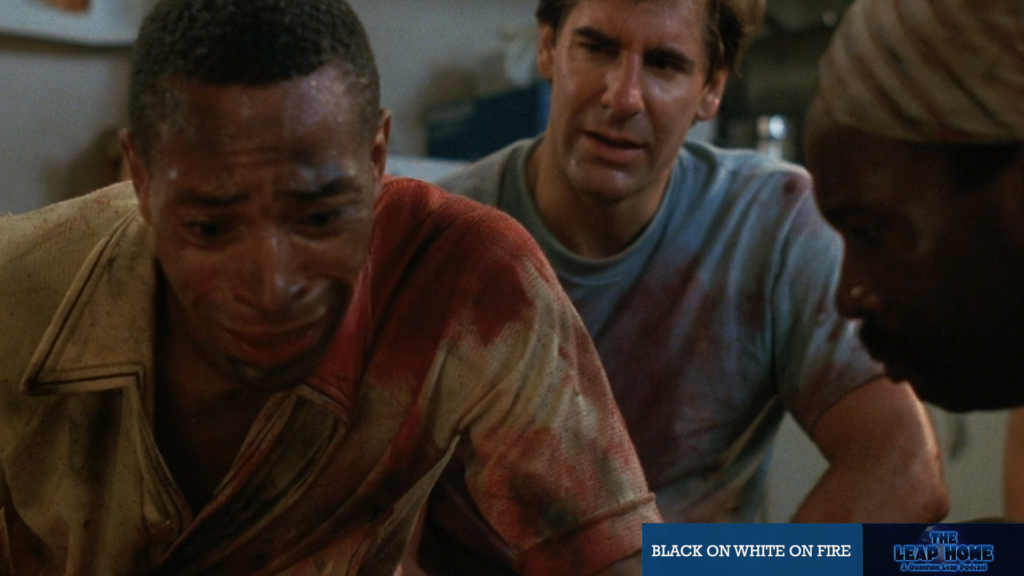 Black on White on Fire was the seventh episode of Quantum Leap's third season to air, with Sam trying to maintain an interracial relationship in the heat of tensions between his community and the police. In this episode Gerry and Iain discuss whether violence is ever the answer.
Podcast: Play in new window | Download
Subscribe: Apple Podcasts | Google Podcasts | Spotify | Amazon Music | Android | RSS
Sam leaps into a young black man who must navigate tension between his white girlfriend Susan (Corie Henninger), the daughter of local police chief Paul Brewster (Marc Alaimo), and his brother Lonnie (Gregory Millar) as temperatures rise in Watts.
Unable to prevent the riots sparking, Sam must act when Lonnie kidnaps Susan, threatening to kill her, after the death of his friend Papa D (Ron Taylor). Another friend, Bebe (Sami Chester), tries to complicate matters while Sam's mother (CCH Pounder) calls for peace.
Black on White on Fire was directed by Joe Napolitano, the fifth of his twelve directorial credits on the series. The writing credit went to Deborah Pratt once again.
In this episode Gerry and Iain considered what causes people to riot.
The discussion continues in the comments below and please keep in touch with us on Twitter, Facebook and Instagram.
You can listen to the show here on the website, on Apple Podcasts, Spotify, YouTube, Pocket Casts, TuneIn, Stitcher, Google or wherever you find your podcasts.
Black on White on Fire was released in 1990. It is 45 minutes long and originally aired on the NBC network. It can be viewed on NBC's Peacock streaming service in the UK and in the United States. The show is available on DVD and Blu Ray in other countries.
---