Miss Deep South – Episode 37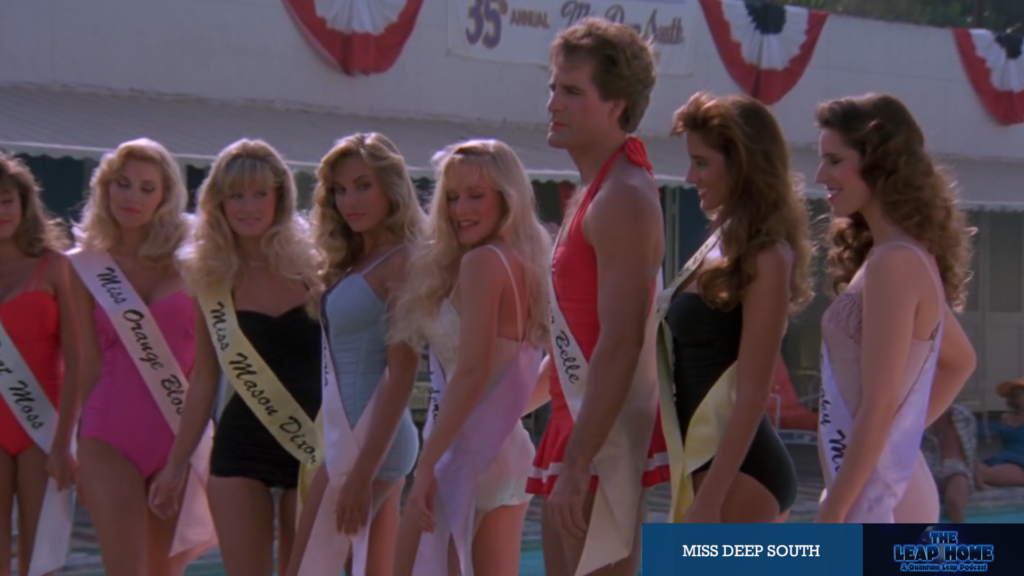 Miss Deep South was the sixth episode of Quantum Leap's third season to air, with Sam trying his best to compete in a beauty pageant while protecting a fellow contestant from a predator. In this episode Gerry and Iain discuss morality and whether standards have changed over time.
Podcast: Play in new window | Download
Subscribe: Apple Podcasts | Google Podcasts | Spotify | Amazon Music | Android | RSS
Sam leaps into a pageant winner on her way to a regional contest called Miss Deep South. On arrival he meets pageant co-ordinator Peg Myers (Nancy Stafford) and fellow contestant Connie Duncan (Heather McAdam). Connie is soon accosted by creepy photographer Clint Beaumont (David A. Brooks) who has his own plans for her.
Sam challenges the panel of judges who range from the traditional (Hugh Gillin) to the almost-feminist (Marte Boyle Slout) as he tries to help Connie escape her problems with Clint and also beat favourite Vicky Jacobs (Julie Ann Lowery) to the title.
Miss Deep South was directed by Christopher T. Welch, the last of his four directorial credits on the series. The script was by Tommy Thompson, his third of thirteen stories for the show.
In this episode Gerry and Iain considered whether beauty pageants have a place in the 21st century.
The discussion continues in the comments below and please keep in touch with us on Twitter, Facebook and Instagram.
You can listen to the show here on the website, on Apple Podcasts, Spotify, YouTube, Pocket Casts, TuneIn, Stitcher, Google or wherever you find your podcasts.
Miss Deep South was released in 1990. It is 45 minutes long and originally aired on the NBC network. It can be viewed on NBC's Peacock streaming service in the UK and in the United States. The show is available on DVD and Blu Ray in other countries.
---