The Boogieman – Episode 36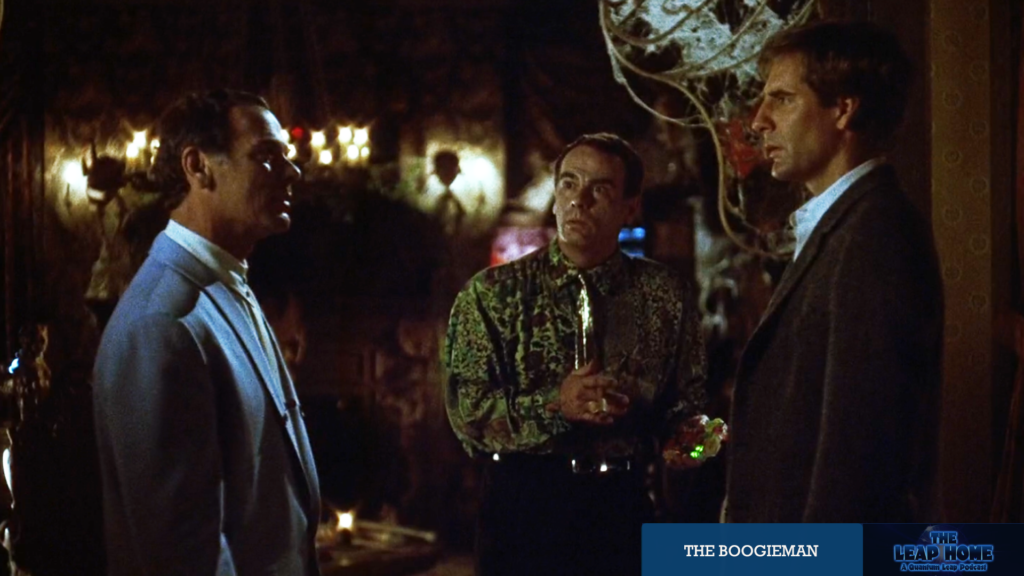 The Boogieman was the fifth episode of Quantum Leap's third season to air, with Sam failing to prevent a series of deaths in smalltown Maine. In this episode Gerry and Iain discuss curses and whether they exist at all.
Podcast: Play in new window | Download
Subscribe: Apple Podcasts | Google Podcasts | Spotify | Amazon Music | Android | RSS
Sam leaps into Joshua Rey, an author who is due to marry Mary Greely (Valerie Mahaffey). On Hallowe'en they begin to decorate their house for guests with the help of Stevie King (David Kriegel), but are delayed when a goat murders workman Tully Maltin (Donald Hotton).
When Tully's death is followed by that of fellow church deacon Dorothy Jaeger (Fran Ryan) suspicion, but also concern, falls on Mary. The subsequent death of Sheriff Masters (Paul Linke) points Sam on the right track, but next he must face his most powerful nemesis yet.
The Boogieman was directed by Joe Napolitano, the fourth of his twelve directorial credits on the series. The script was by Chris Ruppenthal, his fifth of ten stories for the show.
In this episode Gerry and Iain considered things that go bump in the night.
The discussion continues in the comments below and please keep in touch with us on Twitter, Facebook and Instagram.
You can listen to the show here on the website, on Apple Podcasts, Spotify, YouTube, Pocket Casts, TuneIn, Stitcher, Google or wherever you find your podcasts.
The Boogieman was released in 1990. It is 45 minutes long and originally aired on the NBC network. It can be viewed on NBC's Peacock streaming service in the UK and on Roku in the United States. The show is available on DVD and Blu Ray in other countries.
---