One Strobe Over The Line – Episode 35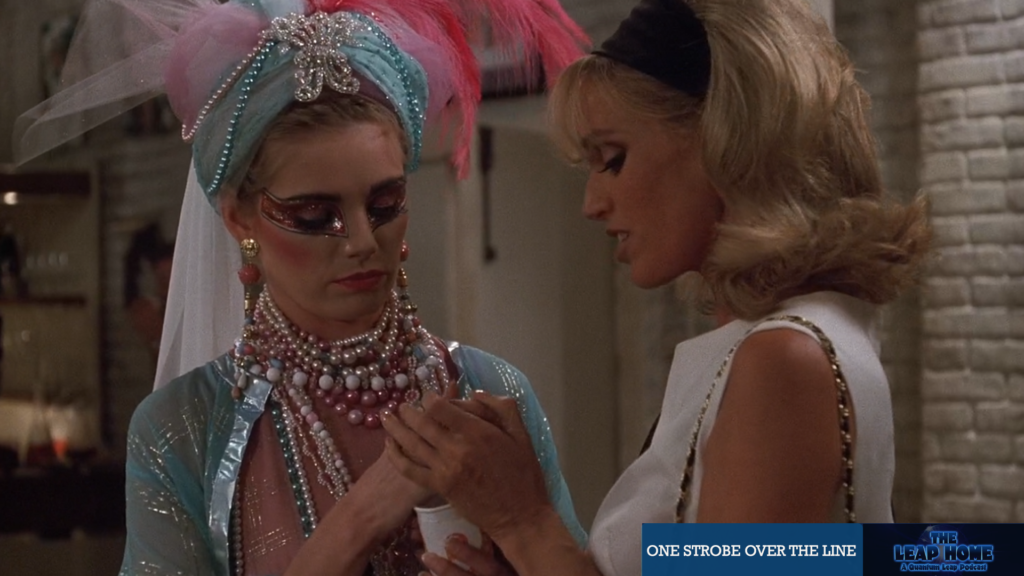 One Strobe Over the Line was the fourth episode of Quantum Leap's third season to air, with Sam as a celebrity photographer trying to help a model break both a drug addiction and the control of her agent. In this episode Gerry and Iain discuss whether drugs are bad.
Podcast: Play in new window | Download
Subscribe: Apple Podcasts | Google Podcasts | Spotify | Amazon Music | Android | RSS
Sam leaps into a photographer working with model Edie Landsdale (Marjorie Monaghan) who is being provided with amphetamines by her unscrupulous agent Helen Le Baron (Susan Anton). Helen worries that Sam is going to end their affair to begin one with Edie andis on edge throughout the episode.
Sam tries to make Edie go cold turkey over a long weekend, but at a subsequent photoshoot her drinks are spiked by Helen, leading to an overdose and a confronation with an angry lion with only Sam and a wooden chair to protect her.
One Strobe Over the Line was directed by Michael Zinberg, the sixth of his nine directorial credits on the series. The script was by Chris Ruppenthal, his fourth of ten Quantum Leaps.
In this episode Gerry and Iain considered ways to fight a lion.
The discussion continues in the comments below and please keep in touch with us on Twitter, Facebook and Instagram.
You can listen to the show here on the website, on Apple Podcasts, Spotify, YouTube, Pocket Casts, TuneIn, Stitcher, Google or wherever you find your podcasts.
One Strobe Over the Line was released in 1990. It is 45 minutes long and originally aired on the NBC network. It can be viewed on NBC's Peacock streaming service in the UK and on Roku in the United States. The show is available on DVD and Blu Ray in other countries.
---