The Leap Home Part 2 – Episode 33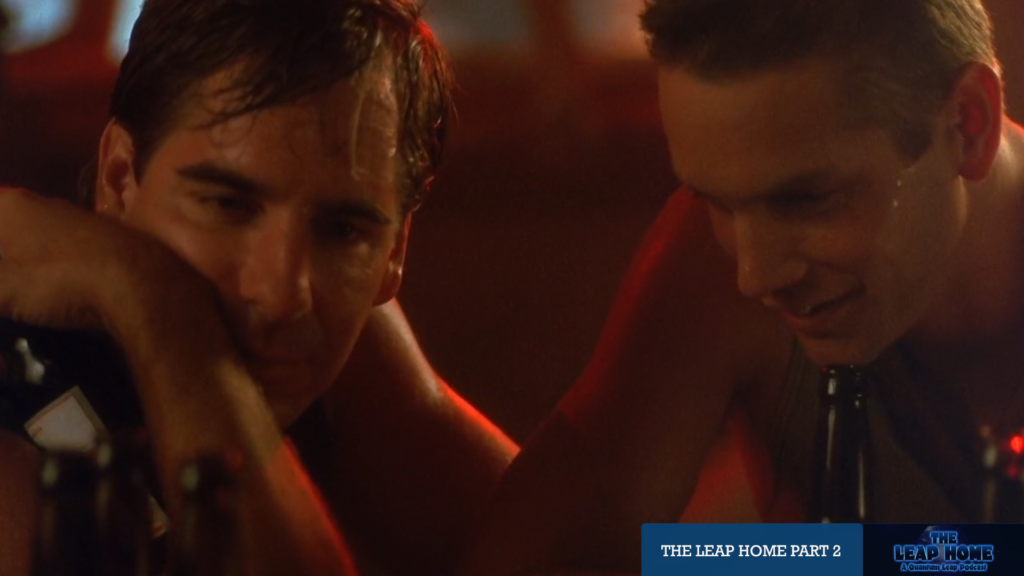 The Leap Home Pt. 2 was the second episode of Quantum Leap's third season to air, with Sam finding himself in his brother's SEAL team the day before Tom is due to die. In this episode Gerry and Iain discuss the parameters of Sam's moral compass.
Podcast: Play in new window | Download
Subscribe: Apple Podcasts | Google Podcasts | Spotify | Amazon Music | Android | RSS
Sam leaps into a member of his brother Tom's (David Newsom) SEAL team in Vietnam. Realising he still has a chance to save Tom's life, despite the events of the previous episode, Sam comes to an arrangement with journalist Maggie Dawson (Andrea Thompson) to help him gather the information he needs.
After saving Col. Grimwald (Ernie Lively) from being killed in a night-time attack, Sam joins the mission to accompany defecting VC Chu-Hoi (Tia Carrere) but after refusing an opportunity to free American prisoners of war to save his brother, Sam faces two heartbreaking moments.
The Leap Home Part 2 was directed by Michael Zinberg, the fifth of his nine directorial credits on the show. The script was again credited to Donald P. Bellisario himself.
In this episode Gerry and Iain considered collateral damage.
The discussion continues in the comments below and please keep in touch with us on Twitter, Facebook and Instagram.
You can listen to the show here on the website, on Apple Podcasts, Spotify, YouTube, Pocket Casts, TuneIn, Stitcher, Google or wherever you find your podcasts.
The Leap Home Part 2 was released in 1990. It is 45 minutes long and originally aired on the NBC network. It can be viewed on NBC's Peacock streaming service in the UK and on Roku in the United States. The show is available on DVD and Blu Ray in other countries.
---