M.I.A. – Episode 31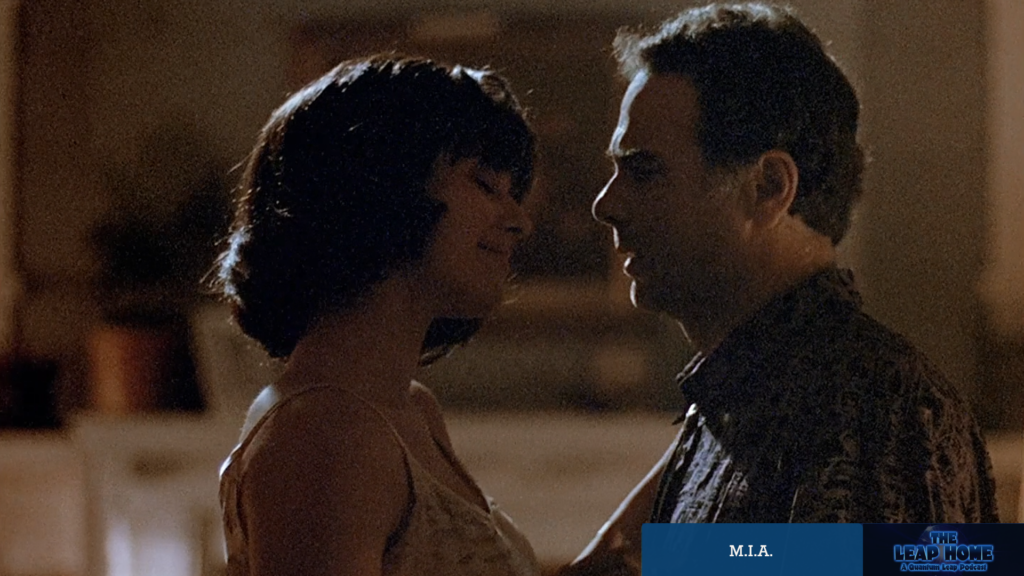 M.I.A. was the twenty second episode of Quantum Leap's second season to air, with Sam sidetracked by Al's personal circumstances. In this episode Gerry and Iain discuss slimeballs and their habits.
Podcast: Play in new window | Download
Subscribe: Apple Podcasts | Google Podcasts | Spotify | Amazon Music | Android | RSS
Sam leaps into Jake, an undercover cop with a track record for bravery. Along with his partner Skaggs (Jason Beghe) he helps (to an extent) capture two armed criminals named Tequila (Pat Skipper) and Boner (William Shockley) before Al tells him his mission is to prevent the wife of an M.I.A. serviceman moving on with a new partner.
When Sam meets the woman, Beth Calavicci (Susan Diol), she is already chatting with sleazy lawyer Dirk Simon (Norman Large) and, when she bumps into Dirk's mother Carol (Sierra Pecheur) the next day, both she and Sam wonder whether this serendipity may be meaningful.
M.I.A. was directed by Michael Zinberg, the fourth of his nine directorial credits on the show. The script was by Donald P. Bellisario himself.
In this episode Gerry and Iain considered whether absence makes the heart grow fonder.
The discussion continues in the comments below and please keep in touch with us on Twitter, Facebook and Instagram.
You can listen to the show here on the website, on Apple Podcasts, Spotify, YouTube, Pocket Casts, TuneIn, Stitcher, Google or wherever you find your podcasts.
M.I.A. was released in 1990. It is 48 minutes long and originally aired on the NBC network. It can be viewed on NBC's Peacock streaming service in the UK and on Roku in the United States. The show is available on DVD and Blu Ray in other countries.
---