Sea Bride – Episode 30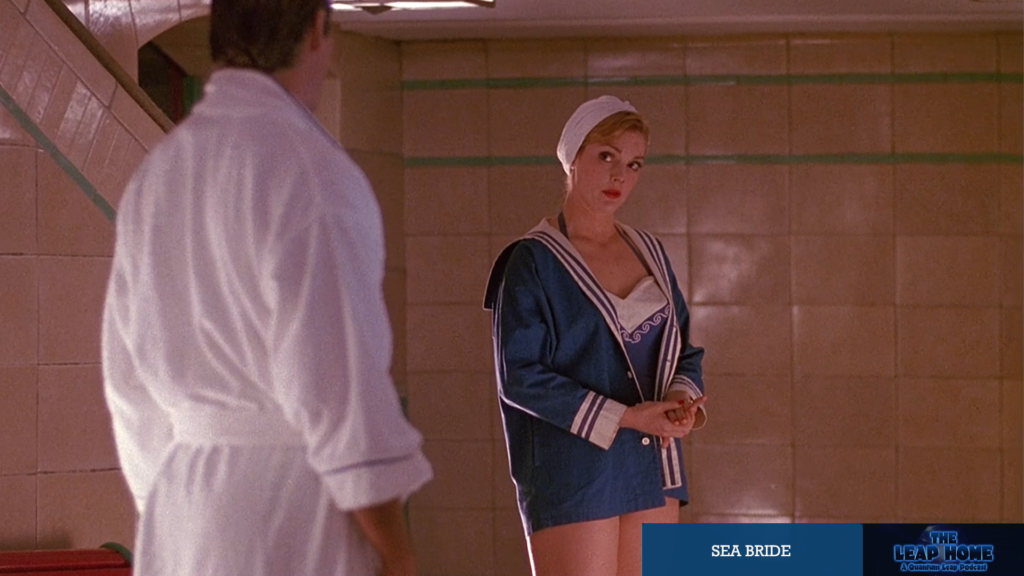 Sea Bride was the twenty first episode of Quantum Leap's second season to air, with Sam hoping to prevent a wedding taking place on a cruise ship. In this episode Gerry and Iain discuss charming villains.
Podcast: Play in new window | Download
Subscribe: Apple Podcasts | Google Podcasts | Spotify | Amazon Music | Android | RSS
Sam leaps into Phillip, a sailor who has returned from being stranded in Bora Bora for a number of years keen to prevent his ex-wife Catherine (Beverly Leech) marrying Vinny 'the Viper' Loggia (James Harper) during a cruise on board the Queen Mary.
Despite a strong warning from his former father-in-law Weathers (JG Hertzler) to stay clear of the ceremony, Sam works with Catherine's young sister Jenny (Juliet Sorci) to try and persuade his former bride that she's making a terrible mistake.
Sea Bride was directed by Joe Napolitano, the second of his twelve directorial credits on the show. The script was by Deborah Pratt, her seventh of twenty Quantum Leap writing credits.
In this episode Gerry and Iain considered whether two wrongs make a right.
The discussion continues in the comments below and please keep in touch with us on Twitter, Facebook and Instagram.
You can listen to the show here on the website, on Apple Podcasts, Spotify, YouTube, Pocket Casts, TuneIn, Stitcher, Google or wherever you find your podcasts.
Sea Bride was released in 1990. It is 48 minutes long and originally aired on the NBC network. It can be viewed on NBC's Peacock streaming service in the UK and on Roku in the United States. The show is available on DVD and Blu Ray in other countries.
---