Maybe Baby – Episode 29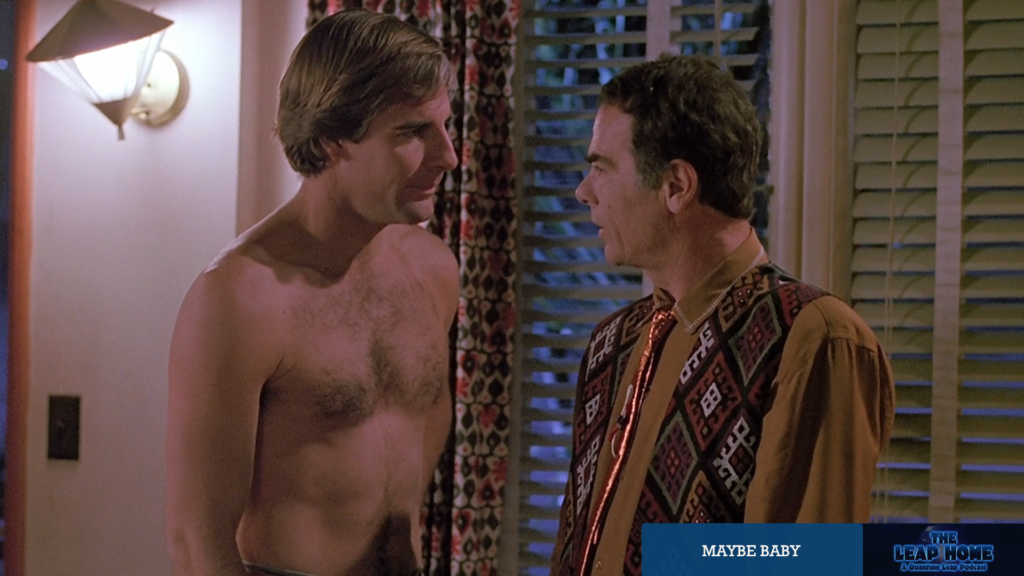 Maybe Baby was the twentieth episode of Quantum Leap's second season to air, with Sam joining mid-kidnap as he and a local stripper try to return a baby to its mother. In this episode Gerry and Iain discuss whether the ends ever justify the means.
Podcast: Play in new window | Download
Subscribe: Apple Podcasts | Google Podcasts | Spotify | Amazon Music | Android | RSS
Sam leaps into Buster, a strip club bouncer who is cementing his two-week long relationship with one of the dancers, Bunny (Julie Brown, who also wrote the episode) by helping her kidnap what she claims to be her daughter from Reed Dalton (Charles Frank), the child's father.
Al urges Sam not to take everything Bunny says at face value and it soon transpires the child is not hers, but that Reed has abducted his own child from its mother, Margaret (Maggie Egan), in another state after losing residency in the courts when they divorced. With Sheriff Barnes (Jimmie Ray Weeks) and his deputy Sutton (Travis McKenna) on their tails, Sam and Bunny head for New Mexico.
Maybe Baby was directed by Michael Zinberg, the third of his nine directorial credits on the show. The script was by Paul Brown and his sister Julie, Paul's 6th of 13 stories for the show and Julie's only Quantum Leap script.
In this episode Gerry and Iain considered whether two wrongs make a right.
The discussion continues in the comments below and please keep in touch with us on Twitter, Facebook and Instagram.
You can listen to the show here on the website, on Apple Podcasts, Spotify, YouTube, Pocket Casts, TuneIn, Stitcher, Google or wherever you find your podcasts.
Maybe Baby was released in 1990. It is 48 minutes long and originally aired on the NBC network. It can be viewed on NBC's Peacock streaming service in the UK and on Roku in the United States. The show is available on DVD and Blu Ray in other countries.
---