Leaping in Without a Net – Episode 28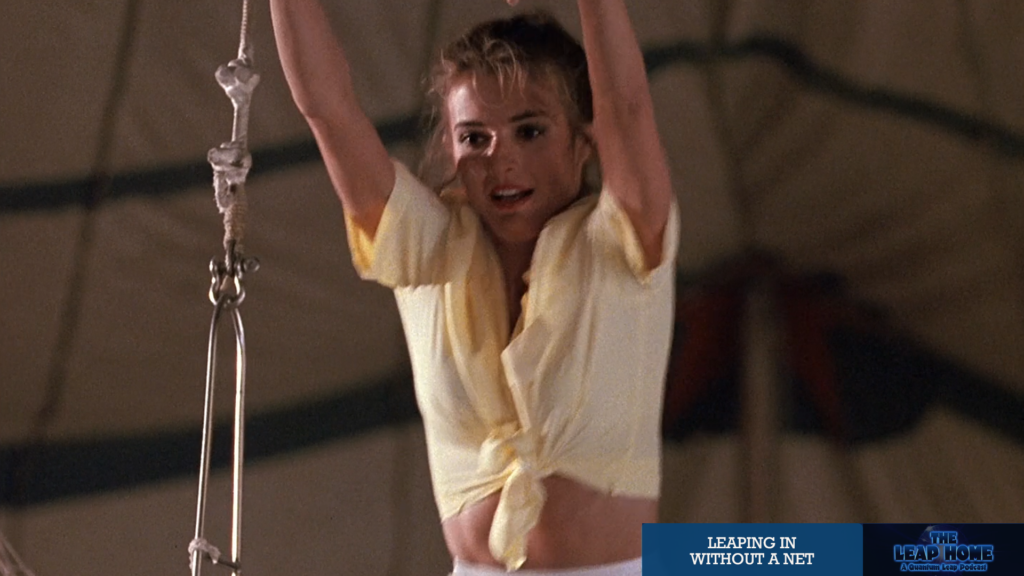 Leaping in Without a Net was the nineteenth episode of Quantum Leap's second season to air, with Sam stepping into the shoes of a trapeze artist returning to the act a year after being involved in a fall that killed his mother. In this episode Gerry and Iain discuss a father who can't move on.
Podcast: Play in new window | Download
Subscribe: Apple Podcasts | Google Podcasts | Spotify | Amazon Music | Android | RSS
Sam leaps into Viktor Panzini, a trapeze artist who hasn't performed for a year since his mother died at a show attempting a 'triple' with him catching. Although his sister Eva (Fabiana Udenio) knows he is not to blame and insists everyone else knows too, his father Laszlo (Jan Tríska) is still bitter about the accident and holds Viktor responsible.
Since his wife's death Laszlo has adopted a cautious approach which has seen the family act relegated from the main circus tour to a mud show in a backwater location run by 'Big Moe' (Phil Fondacaro), but when they are invited to return to Cliff Vargas' (Richard Riehle) company it becomes clear that their headline potential requires Sam to catch Eva as she performs the stunt that killer their mother.
Leaping in Without a Net was directed by Christopher T. Welch, the third of his four directorial credits on the show. The script was by Tommy Thompson, the first of his thirteen Quantum Leap stories.
In this episode Gerry and Iain considered whether there's any skill involved in being an acrobat.
The discussion continues in the comments below and please keep in touch with us on Twitter, Facebook and Instagram.
You can listen to the show here on the website, on Apple Podcasts, Spotify, YouTube, Pocket Casts, TuneIn, Stitcher, Google or wherever you find your podcasts.
Leaping in Without a Net was released in 1990. It is 48 minutes long and originally aired on the NBC network. It can be viewed on NBC's Peacock streaming service in the UK and on Roku in the United States. The show is available on DVD and Blu Ray in other countries.
---