Pool Hall Blues – Episode 27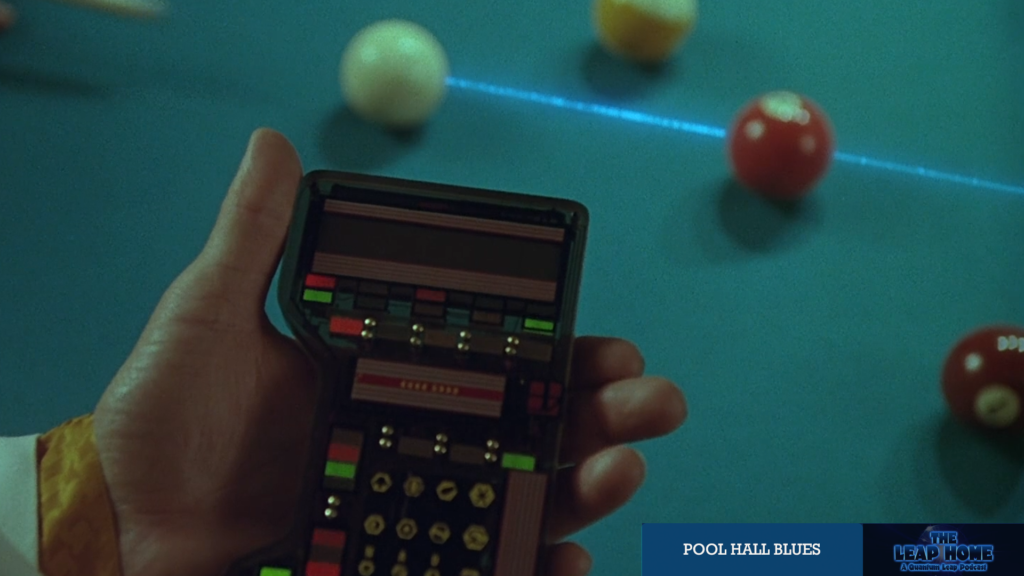 Pool Hall Blues was the eighteenth episode of Quantum Leap's second season to air, with Sam taking the place of an old friend of Al's with a high stakes pool game to win. In this episode Gerry and Iain discuss the ethics of cheating at sports.
Podcast: Play in new window | Download
Subscribe: Apple Podcasts | Google Podcasts | Spotify | Amazon Music | Android | RSS
Sam leaps into Charlie 'Black Magic' Walters, a legendary pool hustler now suffering from decreased vision due to age. When his granddaughter Violet's (Shari Headley) pool hall – cum- blues bar is threatened by Eddie Davies (JW Smith), who has bought out her debt to a loan shark, Sam must play the game of his life to save the business.
Sam's first instinct is to avoid the match, but when banker Charles Griffin (Robert Gossett) refuses to lend the money to pay Eddie off, he must rely on Ziggy's artificial assistance to make his shots. Meanwhile Charlie's friend Grady (Teddy Wilson) squares off with Eddie's thug 'The Brush' (Ken Foree) who is intent on snapping Sam's cue and his hot streak in one shot.
Pool Hall Blues was directed by Joe Napolitano, the first of his twelve directorial credits on the show. The script was by Randy Holland, the first of his two Quantum Leap stories.
In this episode Gerry and Iain considered whether pool just comes down to having a good aim.
The discussion continues in the comments below and please keep in touch with us on Twitter, Facebook and Instagram.
You can listen to the show here on the website, on Apple Podcasts, Spotify, YouTube, Pocket Casts, TuneIn, Stitcher, Google or wherever you find your podcasts.
Pool Hall Blues was released in 1990. It is 48 minutes long and originally aired on the NBC network. It can be viewed on NBC's Peacock streaming service in the UK and on Roku in the United States. The show is available on DVD and Blu Ray in other countries.
---