Good Night, Dear Heart – Episode 26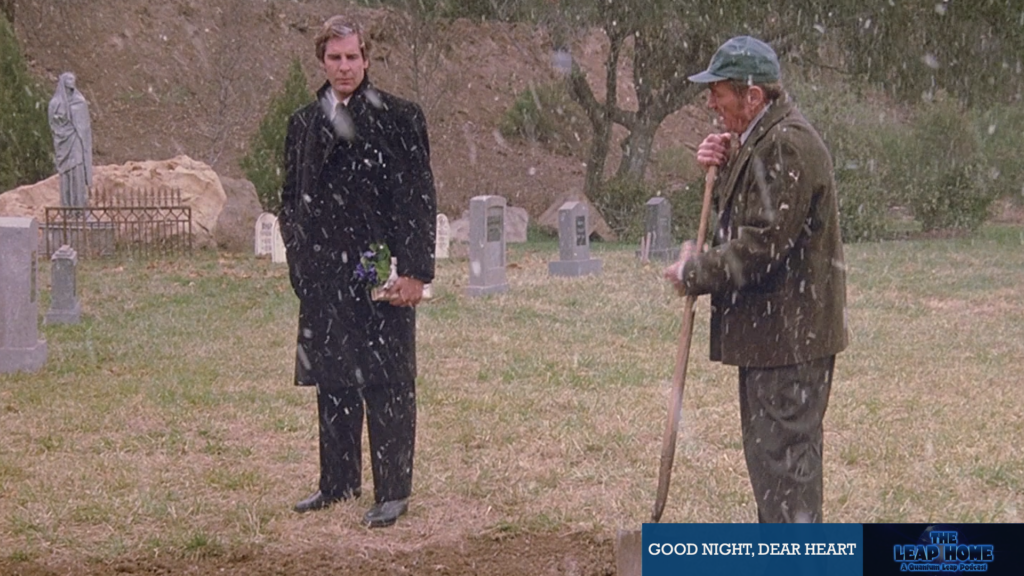 Good Night, Dear Heart was the seventeenth episode of Quantum Leap's second season to air, with Sam becoming obsessed with a corpse to Al's obvious concern. In this episode Gerry and Iain discuss obsession and it's ugliest manifestations.
Podcast: Play in new window | Download
Subscribe: Apple Podcasts | Google Podcasts | Spotify | Amazon Music | Android | RSS
Sam leaps into Melvin Spooner, a small town mortician-slash-coroner who has an apparent suicide victim on the slab. The girl, a German holiday worker named Hilla (Suzanne Tegmann), has an apparent bullet wound to her temple, leading Sam to believe she was murdered.
As Sam grows increasingly obsessed with Hilla, he defies the advice of local Sheriff Lyle Roundtree (W.K. Stratton) to investigate her ties to influencal local businessman Roger Truesdale (William Cain) and his son Greg (Robert Duncan McNeill), as well as Hilla's friend Stephanie (Marcia Cross) and local amateur abortionist Aggie (Deborah Strang).
Good Night, Dear Heart was directed by Christopher T. Welch, the second of his four directorial credits on the show. The story was by Paul Brown, the fifth of his thirteen scripts.
In this episode Gerry and Iain considered what happens when you fall in love with a dead girl.
The discussion continues in the comments below and please keep in touch with us on Twitter, Facebook and Instagram.
You can listen to the show here on the website, on Apple Podcasts, Spotify, YouTube, Pocket Casts, TuneIn, Stitcher, Google or wherever you find your podcasts.
Good Night, Dear Heart was released in 1990. It is 48 minutes long and originally aired on the NBC network. It can be viewed on NBC's Peacock streaming service in the UK and on Roku in the United States. The show is available on DVD and Blu Ray in other countries.
---