Freedom – Episode 25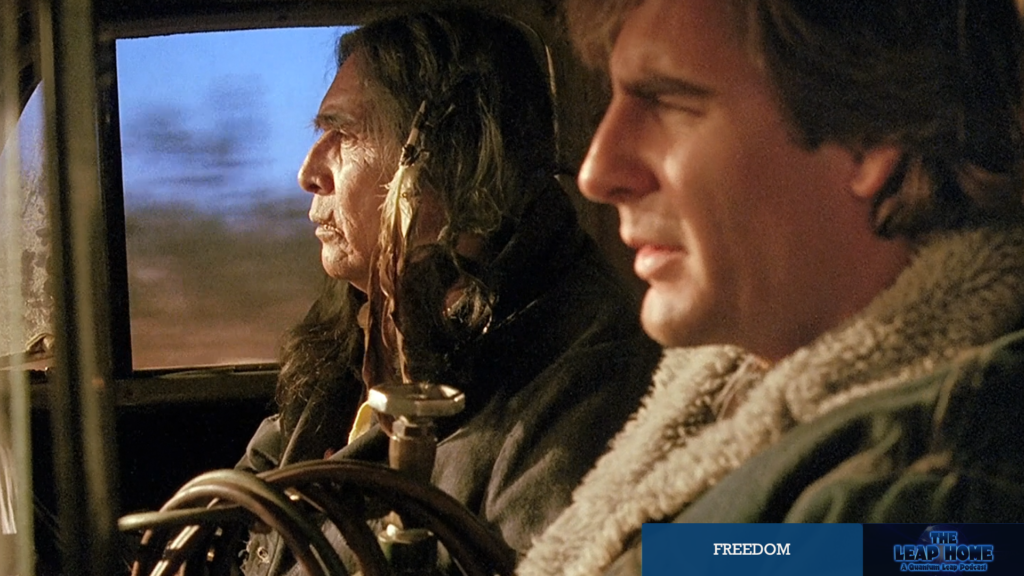 Freedom was the sixteenth episode of Quantum Leap's second season to air, with Sam busting a granfather out of prison before going on the run. In this episode Gerry and Iain discuss effective policing and its parameters.
Podcast: Play in new window | Download
Subscribe: Apple Podcasts | Google Podcasts | Spotify | Amazon Music | Android | RSS
Sam leaps into George, a young Native American man who is in prison with his grandfather, Joseph (Frank Salsedo) after 'borrowing' a pickup truck to help the older man escape the nursing home George's sister Suzanne (Gloria Hayes) has placed him in.
Having broken out of police custody, the two men are pursed relentlessly by Sheriff Taggart (Leon Rippy) who, embarrassed by the manner of their escape, has his heart and mind set on a deadly conclusion to the pursuit.
Freedom was directed by Alan J. Levi, the third of his six directorial credits on the show. The story was by Chris Ruppenthal, the third of his ten scripts.
In this episode Gerry and Iain considered justice and its execution.
The discussion continues in the comments below and please keep in touch with us on Twitter, Facebook and Instagram.
You can listen to the show here on the website, on Apple Podcasts, Spotify, YouTube, Pocket Casts, TuneIn, Stitcher, Google or wherever you find your podcasts.
Freedom was released in 1990. It is 48 minutes long and originally aired on the NBC network. It can be viewed on NBC's Peacock streaming service in the UK and on Roku in the United States. The show is available on DVD and Blu Ray in other countries.
---