All-Americans – Episode 23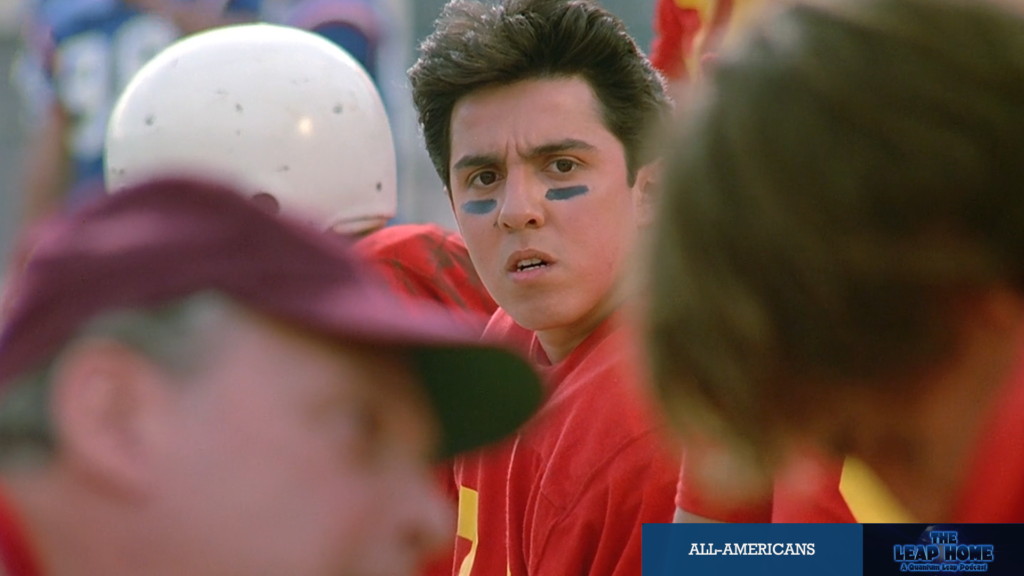 All-Americans was the fourteenth episode of Quantum Leap's second season to air, with Sam strapping up his pads for a crucial game of High School football. In this episode Gerry and Iain discuss immigration, which is always a good thing.
Podcast: Play in new window | Download
Subscribe: Apple Podcasts | Google Podcasts | Spotify | Amazon Music | Android | RSS
Sam leaps into Eddie, a high school senior quarterback on the radar of some of the leading college programs in the state and beyond, along with his receiver Chuey Martinez (Richard Coca). Sam's widowed father, Manuel (Pepe Serna), and Chuey's single mother, Celia (Ruth Britt), seem on the verge of starting a relationship together.
However, Celia's vicious landlord, Ruben (Fausto Bara), has demanded payment of backdated rent, otherwise she and Chuey will be evicted. With his mother unable to meet the demand, Chuey agrees to throw the city championship game to pay off the debt.
All-Americans was directed by John Cullum, the only screen directorial credit of his career. The writers were Donald P. Bellisario and Paul Brown, the fourth of Brown's thirteen writing credits for the show.
In this episode Gerry and Iain considered Sam's preternatural arm talent.
The discussion continues in the comments below and please keep in touch with us on Twitter, Facebook and Instagram.
You can listen to the show here on the website, on Apple Podcasts, Spotify, YouTube, Pocket Casts, TuneIn, Stitcher, Google or wherever you find your podcasts.
All-Americans was released in 1990. It is 48 minutes long and originally aired on the NBC network. It can be viewed on NBC's Peacock streaming service in the UK and on Roku in the United States. The show is available on DVD and Blu Ray in other countries.
---