Another Mother – Episode 22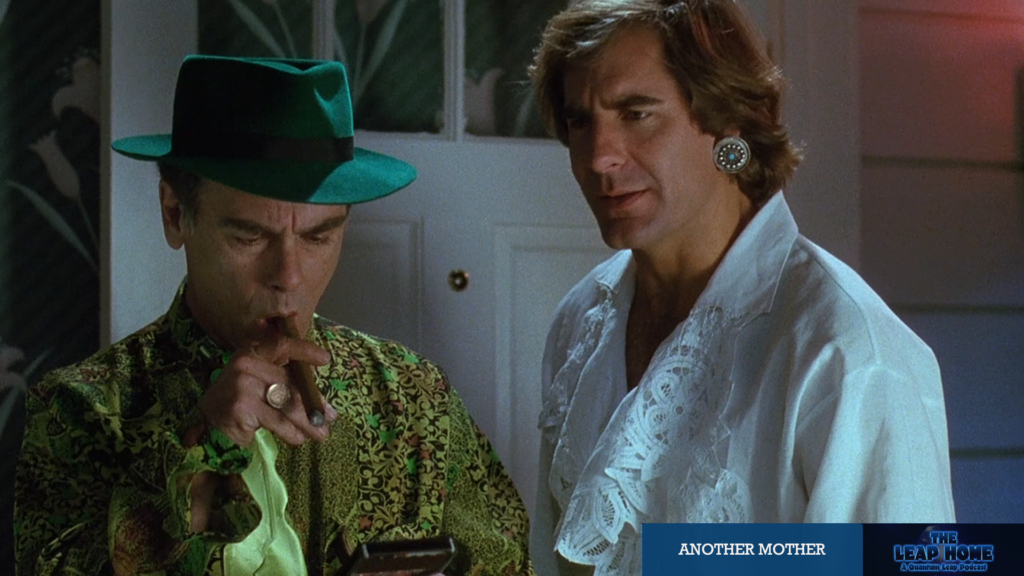 Another Mother was the thirteenth episode of Quantum Leap's second season to air, with Sam taking on the role of a single mother, but seen as himself by her youngest child. In this episode Gerry and Iain discuss the innocence of youth.
Podcast: Play in new window | Download
Subscribe: Apple Podcasts | Google Podcasts | Spotify | Amazon Music | Android | RSS
Sam leaps into single mother Linda Bruckner, parent to Kevin (Michael Stoyanov), Susan (Olivia Burnette) and young Teresa (Troian Bellisario). When it becomes clear that Teresa can not only see Sam, but Al as well, matters become complicated.
Kevin becomes the victim of an adolescent prank when he visits the home of his supposed friend Jackie Arnett (Allison Barron) only to be exposed as a virgin in front of his taunting classmates. Worse follows when he is kidnapped on his way home by two perverts in a van, with Sam in pursuit.
Another Mother was directed by Joseph L. Scanlan, his only episode for the show. The writer was Deborah Pratt, the fifth of her writing credits.
In this episode Gerry and Iain considered the many and various demands on the time of a single mother in the 80s.
The discussion continues in the comments below and please keep in touch with us on Twitter, Facebook and Instagram.
You can listen to the show here on the website, on Apple Podcasts, Spotify, YouTube, Pocket Casts, TuneIn, Stitcher, Google or wherever you find your podcasts.
Another Mother was released in 1990. It is 48 minutes long and originally aired on the NBC network. It can be viewed on NBC's Peacock streaming service in the UK and on Roku in the United States. The show is available on DVD and Blu Ray in other countries.
---