Animal Frat – Episode 21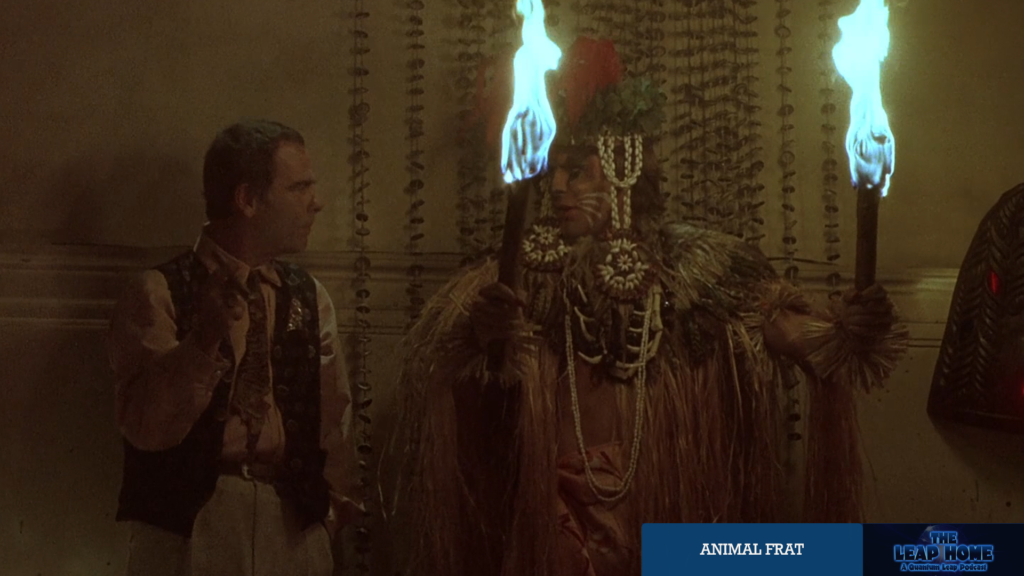 Animal Frat was the twelfth episode of Quantum Leap's second season to air, with Sam looking to persuade an anti-war protestor to refrain from violence despite presenting as a frat house jock. In this episode Gerry and Iain discuss whether violence is ever the answer.
Podcast: Play in new window | Download
Subscribe: Apple Podcasts | Google Podcasts | Spotify | Amazon Music | Android | RSS
Sam leaps into Knut 'Wild Thing' Wileton, a college frat boy with sidekicks named Will (Raphael Sbarge), Guna (Brian Haley) and Hags (Stuart Fratkin) and a pledge named Scooter (Robert Petkoff). His task involves helping an anti-Vietnam protestor avoid killing a student as part of a stunt.
Ingratiating himself to his 'target', Elisabeth (Stacy Edwards), is difficult enough without the watchful eye of protest group leader Duck (Darren Dalton) on him at all times, but Sam is determined to win her attention and dissuade her from detonating a bomb in the chemsitry lab before it's too late.
Animal Frat was directed by Gilbert M. Shilton, the last of his four episodes for the show. The writer was Chris Ruppenthal, the second of his nine Quantum Leap scripts.
In this episode Gerry and Iain considered the appeal of college fraternities.
The discussion continues in the comments below and please keep in touch with us on Twitter, Facebook and Instagram.
You can listen to the show here on the website, on Apple Podcasts, Spotify, YouTube, Pocket Casts, TuneIn, Stitcher, Google or wherever you find your podcasts.
Animal Frat was released in 1990. It is 48 minutes long and originally aired on the NBC network. It can be viewed on NBC's Peacock streaming service in the UK and on Roku in the United States. The show is available on DVD and Blu Ray in other countries.
---