A Portrait for Troian – Episode 20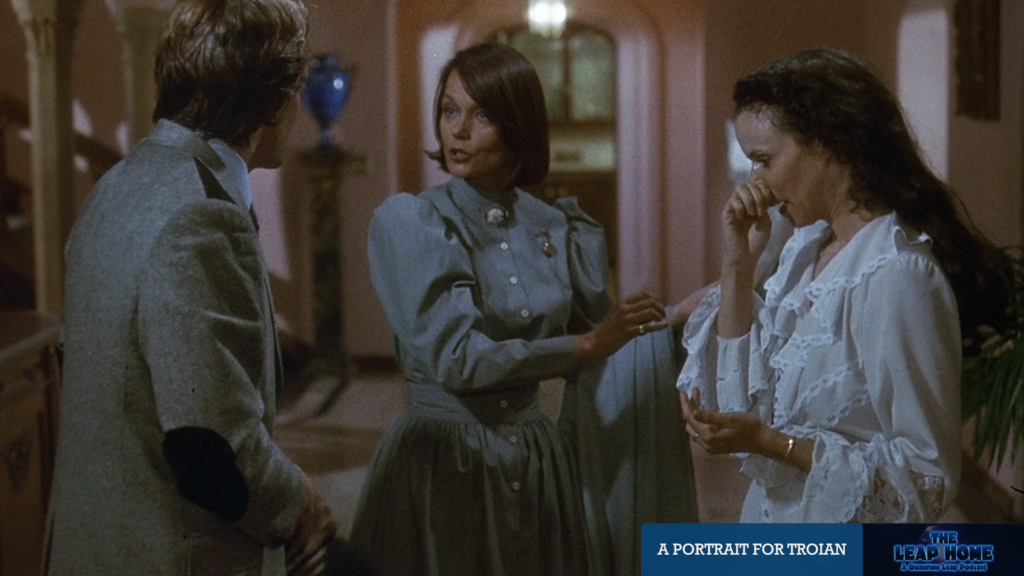 A Portrait for Troian was the eleventh episode of Quantum Leap's second season to air, with Sam taking on the role of a parapsychologist hired to find a ghost before the woman it's haunting goes mad. In this episode Gerry and Iain discuss the supernatural and their ambitions.
Podcast: Play in new window | Download
Subscribe: Apple Podcasts | Google Podcasts | Spotify | Amazon Music | Android | RSS
Sam leaps into Dr Timothy Mintz (briefly portrayed by Donald P. Bellisario) who is a parapsychologist trying to help Troian Claridge (Deborah Pratt) who has been hearing the voice of her deceased husband around her home and its grounds.
With creepy housekeeper Mrs Stoltz (Carolyn Seymour) and Troian's brother Jimmy (Robert Torti) running interference, Sam must work out who is behind this attack on Troian's sanity, what they are trying to achieve and how to stop them before she joins her husband in the murky depths of the family lake.
A Portrait for Troian was directed by Michael Zinberg, the second of his nine shows in the chair. The writers were Donald Bellisario, Scott Shepherd and John Hill, with this episode representing the final writing credits on the show for Shepherd and Hill.
In this episode Gerry and Iain considered the difference between ghosts and skeletons.
The discussion continues in the comments below and please keep in touch with us on Twitter, Facebook and Instagram.
You can listen to the show here on the website, on Apple Podcasts, Spotify, YouTube, Pocket Casts, TuneIn, Stitcher, Google or wherever you find your podcasts.
A Portrait for Troian was released in 1989. It is 48 minutes long and originally aired on the NBC network. It can be viewed on NBC's Peacock streaming service in the UK and on Roku in the United States. The show is available on DVD and Blu Ray in other countries.
---