Catch a Falling Star – Episode 19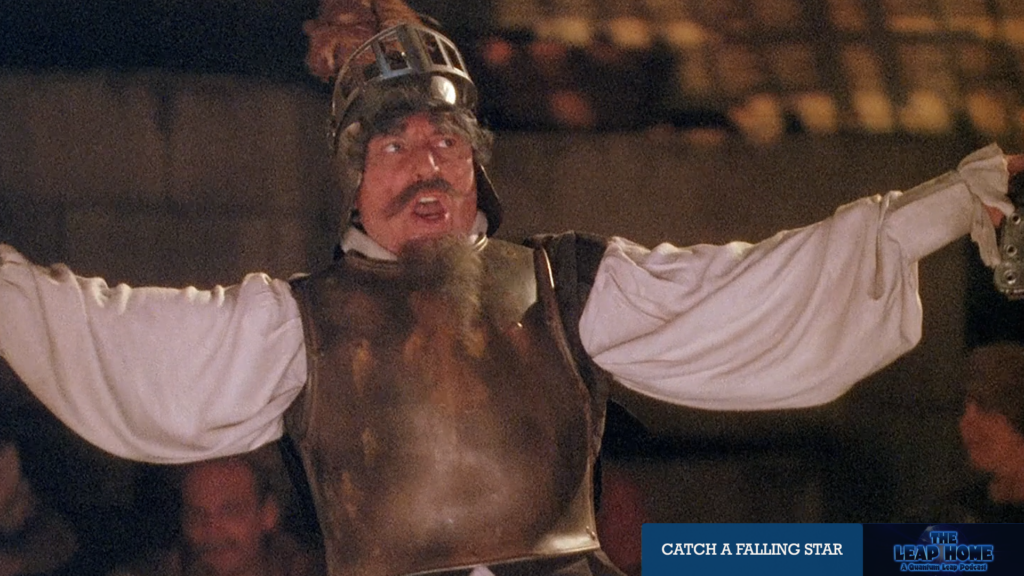 Catch a Falling Star was the tenth episode of Quantum Leap's second season to air, with Sam in two minds about whether to save a drunken actor from a career-ending fall. In this episode Gerry and Iain discuss Sam's personal agendas.
Podcast: Play in new window | Download
Subscribe: Apple Podcasts | Google Podcasts | Spotify | Amazon Music | Android | RSS
Sam leaps into Ray Hutton, a jobbing actor working as an understudy in an off-Broadway production of Man of La Mancha. Rushed to stage by Dolores (Myra Turley) and Charlie (Paul Sand), Sam is spared an embarrassing debut by the last minute arrival of leading man John O'Malley (John Cullum). He then spends some awkward time with co-stars Manny (Ernie Sabella) and Michelle (Janine Turner).
Things change when Sam spots Nicole (Michele Pawk), his teenage piano teacher for whom he's carried a flame since he was 15. Unable to get his head around the fact that Nicole is attracted to Ray, not him, Sam pursues a relationship while a jealous Michelle tries to disrupt his plans.
Catch a Falling Star was directed by Donald P. Bellisario, his only directing credit for the show. The writer was again Paul Brown, the third of his thirteen writing credits on the show.
In this episode Gerry and Iain considered the power of song.
The discussion continues in the comments below and please keep in touch with us on Twitter, Facebook and Instagram.
You can listen to the show here on the website, on Apple Podcasts, Spotify, YouTube, Pocket Casts, TuneIn, Stitcher, Google or wherever you find your podcasts.
Catch a Falling Star was released in 1989. It is 48 minutes long and originally aired on the NBC network. It can be viewed on NBC's Peacock streaming service in the UK and on Roku in the United States. The show is available on DVD and Blu Ray in other countries.
---