So Help Me God – Episode 18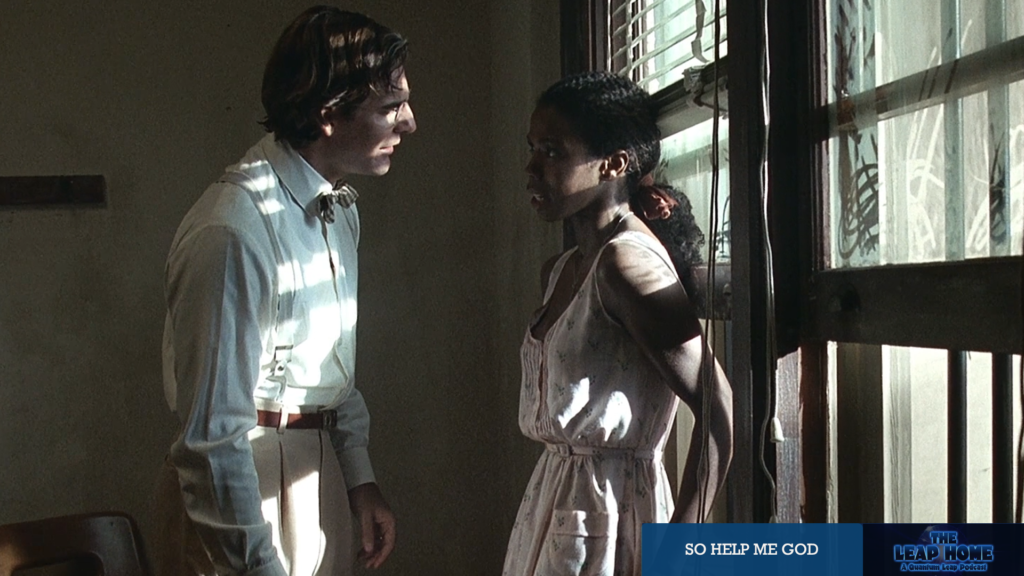 So Help Me God was the ninth episode of Quantum Leap's second season to air, with Sam taking on the role of a defence attorney during a racially charged murder trial. In this episode Gerry and Iain discuss what makes a good witness.
Podcast: Play in new window | Download
Subscribe: Apple Podcasts | Google Podcasts | Spotify | Amazon Music | Android | RSS
Sam leaps into Leonard Dancey, a white lawyer in a southern town in the fifties. His client is Lila Berry (Tyra Ferrell), who is accused of murdering the son of 'Captain' Colton Cotter (Byrne Piven) with the case being heard by Judge Eugene Haller (William Schallert).
Despite Lila's reluctance to tell the full story (and that of her colleague at the Cotter home, Myrtle (Ketty Lester)) and despite some interference from prosecutor Bo Parsons (John Shepard) and Sheriff Dixon (John Apicella), Sam works diligently and thinks he has the solution when he calls the Captain's wife Sadie (Kathleen Noone) to give evidence.
So Help Me God was directed by Andy Cadiff, the first of his three episodes in the chair. The writer was again Deborah Pratt, the fourth of her twenty writing credits on the show.
In this episode Gerry and Iain considered the power of faith.
The discussion continues in the comments below and please keep in touch with us on Twitter, Facebook and Instagram.
You can listen to the show here on the website, on Apple Podcasts, Spotify, YouTube, Pocket Casts, TuneIn, Stitcher, Google or wherever you find your podcasts.
So Help Me God was released in 1989. It is 48 minutes long and originally aired on the NBC network. It can be viewed on NBC's Peacock streaming service in the UK and on Roku in the United States. The show is available on DVD and Blu Ray in other countries.
---