Jimmy – Episode 17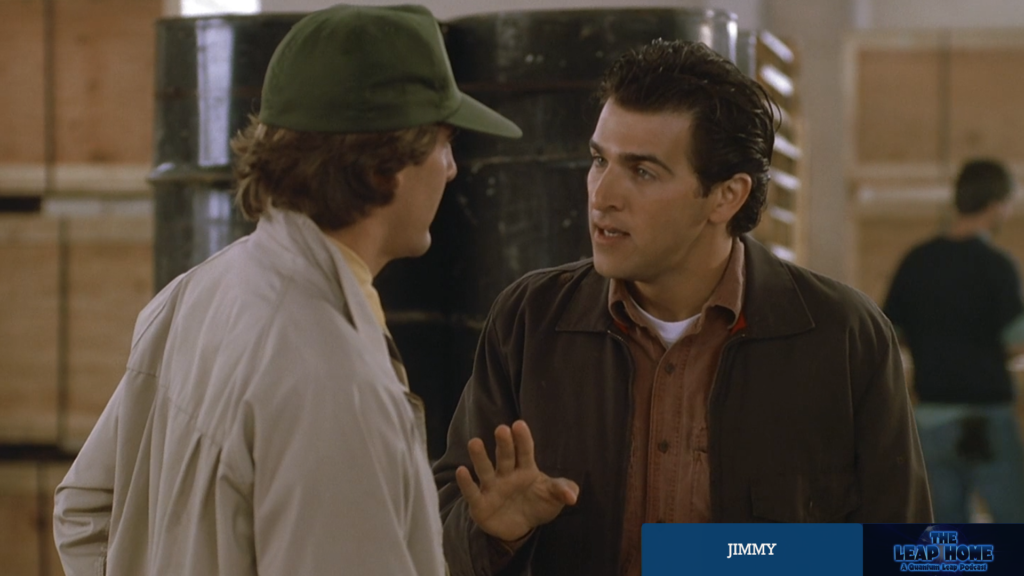 Jimmy was the eighth episode of Quantum Leap's second season to air, with Sam stepping into the shows of a young man with Down's Syndrome trying to hold down a job. In this episode Gerry and Iain discuss people who lack empathy.
Podcast: Play in new window | Download
Subscribe: Apple Podcasts | Google Podcasts | Spotify | Amazon Music | Android | RSS
Sam leaps into Jimmy LaMotta, a young man with Down's Syndrome. Jimmy has until recently been living in an institution, but his brother Frank (John D'Aquino), sister-in-law Connie (Laura Harrington) and nephew Corey (Ryan McWhorter) have now brought him to stay at their home.
Sam secures Jimmy a job at the docks where Frank also works by impressing Charlie Samuels (Michael Alldredge) in an interview. Trouble brews when fellow worker Blue (Michael Madsen) takes a disliking to Jimmy and it soon seems like Frank will decide to send him back to the institution.
Jimmy was directed by James Whitmore Jr, the first of fifteen episodes in the chair. The writers were Paul M. Belous, the first of his two stories for the show, and Robert Wolterstorff, with the first of his three.
In this episode Gerry and Iain considered whether it's OK to lose your temper with someone you love.
The discussion continues in the comments below and please keep in touch with us on Twitter, Facebook and Instagram.
You can listen to the show here on the website, on Apple Podcasts, Spotify, YouTube, Pocket Casts, TuneIn, Stitcher, Google or wherever you find your podcasts.
Jimmy was released in 1989. It is 48 minutes long and originally aired on the NBC network. It can be viewed on NBC's Peacock streaming service in the UK and on Roku in the United States. The show is available on DVD and Blu Ray in other countries.
---