Thou Shalt Not… – Episode 16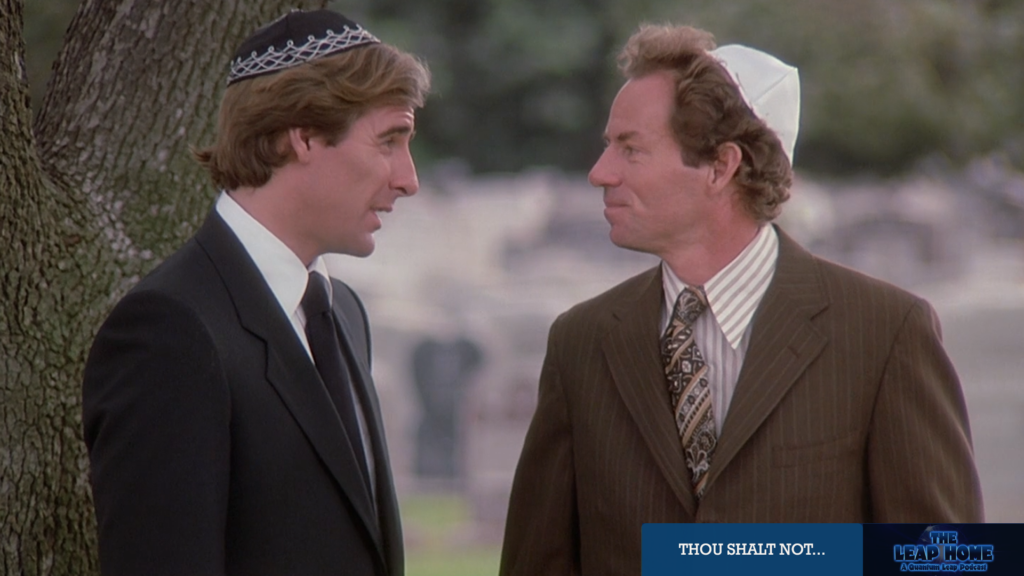 Thou Shalt Not… was the seventh episode of Quantum Leap's second season to air, with Sam taking on the role of a rabbi and helping his brother and his sister-in-law come to terms with the death of their son. In this episode Gerry and Iain discuss the importance of communication.
Podcast: Play in new window | Download
Subscribe: Apple Podcasts | Google Podcasts | Spotify | Amazon Music | Android | RSS
Sam leaps into David Basch, a rabbi in the middle of his niece Karen's (Lindsay Fisher) bat mitzvah. Noting a breakdown in communication between his brother Joe (James Sutorius) and sister-in-law Irene (Terri Hanauer), he tries to bridge the gap.
One complicating factor is local slimeball Bert Glasserman (Russ Tamblyn) who is in the middle of a grand deception, convincing multiple women he is grieving a non-existant wife in order to gain sympathy so he can take advantage of them (and write about them in his soon-to-be-a-bestseller book).
Thou Shalt Not… was directed by Randy Roberts and the writer was Tammy Ader, the only work on Quantum Leap for either of them.
In this episode Gerry and Iain considered the dark art of deception.
The discussion continues in the comments below and please keep in touch with us on Twitter, Facebook and Instagram.
You can listen to the show here on the website, on Apple Podcasts, Spotify, YouTube, Pocket Casts, TuneIn, Stitcher, Google or wherever you find your podcasts.
Thou Shalt Not… was released in 1989. It is 48 minutes long and originally aired on the NBC network. It can be viewed on NBC's Peacock streaming service in the UK and on Roku in the United States. The show is available on DVD and Blu Ray in other countries.
---