Good Morning, Peoria – Episode 15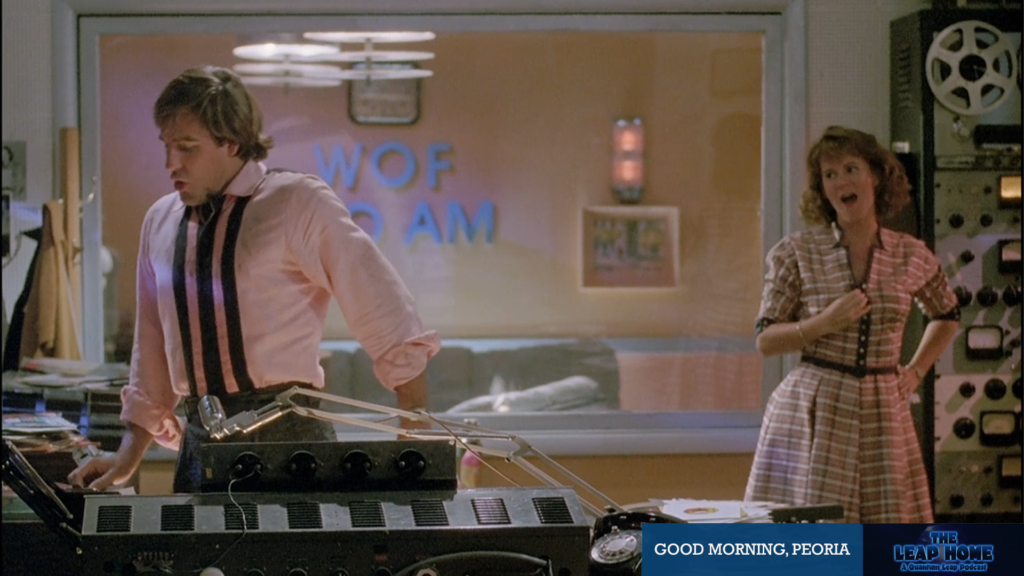 Good Morning, Peoria was the sixth episode of Quantum Leap's second season to air, with Sam defying a local bylaw that prevents a radio station playing rock & roll music. In this episode Gerry and Iain discuss what's corrupting the youth of today.
Podcast: Play in new window | Download
Subscribe: Apple Podcasts | Google Podcasts | Spotify | Amazon Music | Android | RSS
Sam leaps into DJ "Howlin'" Chick Howell (Douglas Ibold) and finds himself working at a local radio station in Peoria for Rachel Porter (Patricia Richardson), the daughter of the station's founder. At the behest of over-agitated businessman Fred Beaman (Richard McKenzie), the local Mayor (Hal England) has passed a by-law banning the playing of rock & roll music in the city.
Sam and Rachel stage a lock-in, continuing to broadcast rock & roll tunes to Beaman's despair and despite multiple efforts to cut their transmission externally. As the temperature rises in the DJ booth, Sam and Rachel find themselves getting closer and closer.
Good Morning, Peoria was directed by Michael Zinberg, the first of his nine episode for the show. The writer was Chris Ruppenthal, the first of his ten Quantum Leap stories.
In this episode Gerry and Iain considered the different ways rock and roll can corrupt a person.
The discussion continues in the comments below and please keep in touch with us on Twitter, Facebook and Instagram.
You can listen to the show here on the website, on Apple Podcasts, Spotify, YouTube, Pocket Casts, TuneIn, Stitcher, Google or wherever you find your podcasts.
Good Morning, Peoria was released in 1989. It is 48 minutes long and originally aired on the NBC network. It can be viewed on NBC's Peacock streaming service in the UK and on Roku in the United States. The show is available on DVD and Blu Ray in other countries.
---