Blind Faith – Episode 14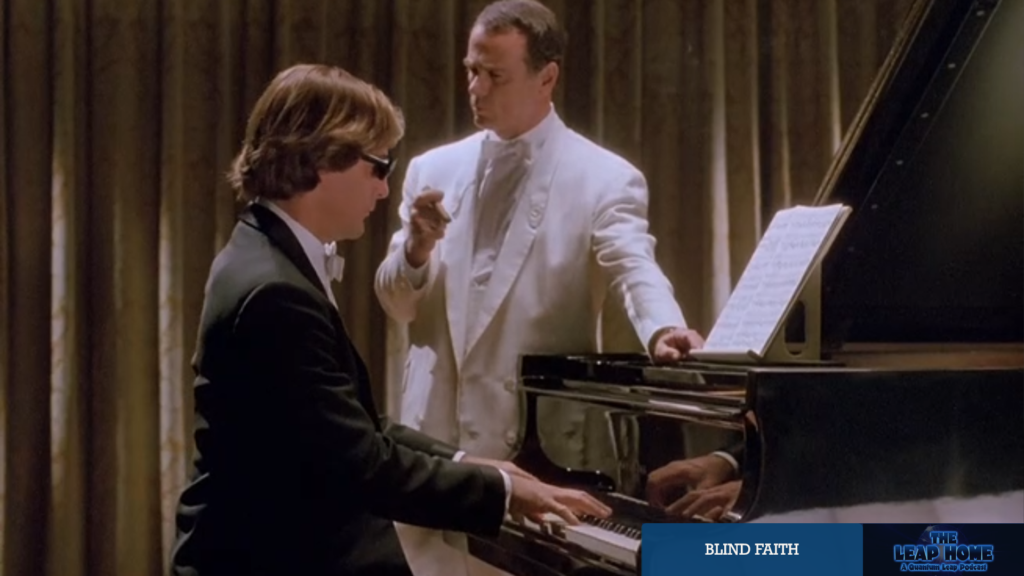 Blind Faith was the fifth episode of Quantum Leap's second season to air, with Sam trying to mimic blindness, learn how to play piano to concert standard and save his girlfriend from a serial killer and her suffocating mother all at once. In this episode Gerry and Iain discuss the physicality of leaping.
Podcast: Play in new window | Download
Subscribe: Apple Podcasts | Google Podcasts | Spotify | Amazon Music | Android | RSS
Sam leaps into concert pianist Andrew Ross (cocktail pianist Billy Burdin) at the end of a performance on the stage of Carnegie Hall. Encouraged by his assistant-slash-girlfriend Michelle (Cynthia Bain) to return for an encore, he improvises with a 'comedic' rendition of chopsticks.
Michelle is facing pressure from her mother, Agnes (Jennifer Rhodes), to focus on her studies, but with a serial killer (Kevin Skousen) on the loose, there are more threats around to Michelle's well-being than mere parental disappointment.
Blind Faith was directed by David G. Phinney, his only episode for the show. The writer was Scott Shepherd, the second of his three Quantum Leap scripts after Play It Again, Seymour.
In this episode Gerry and Iain considered what an appropriate amount of parental care looks like.
The discussion continues in the comments below and please keep in touch with us on Twitter, Facebook and Instagram.
You can listen to the show here on the website, on Apple Podcasts, Spotify, YouTube, Pocket Casts, TuneIn, Stitcher, Google or wherever you find your podcasts.
Blind Faith was released in 1989. It is 48 minutes long and originally aired on the NBC network. It can be viewed on NBC's Peacock streaming service in the UK and on Roku in the United States. The show is available on DVD and Blu Ray in other countries.
---