What Price Gloria? – Episode 13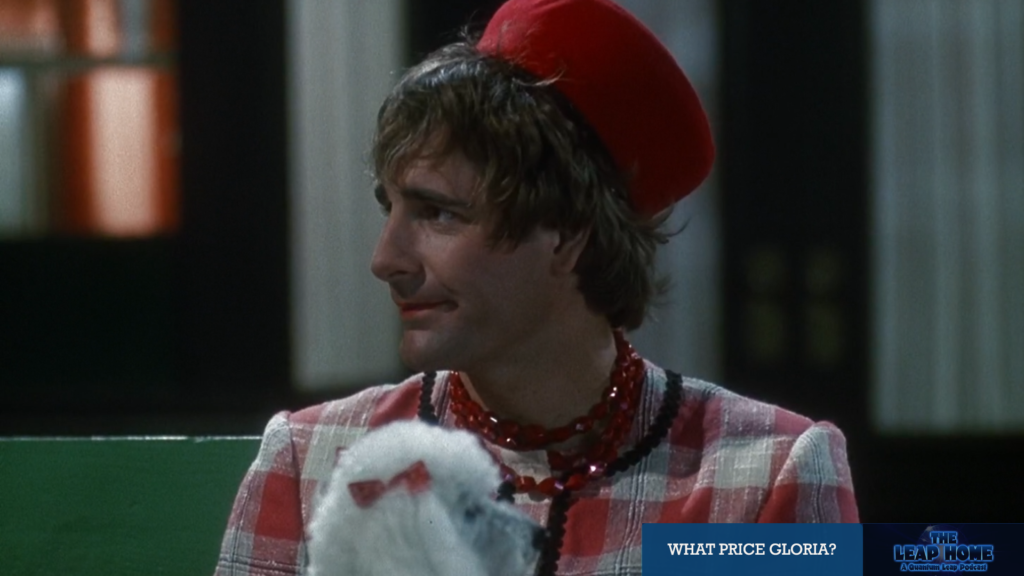 What Price Gloria? was the fourth episode of Quantum Leap's second season to air, with Sam finding out what it was like to be a woman around predatory men. In this episode Gerry and Iain discuss gender roles and societal expectation.
Podcast: Play in new window | Download
Subscribe: Apple Podcasts | Google Podcasts | Spotify | Amazon Music | Android | RSS
Sam leaps into Samanthan Stormer (LaReine Chabut), an office executive at a motor company recently promoted along with her boss, Buddy Wright (John Calvin). Buddy is a married man, but that doesn't stop him pursuing relationships with the secretaries, including Sam, and in particular Samantha's housemate Gloria (Jean Sagal) who he has promised to marry as soon as he leaves his wife, Gail (Laurel Schaefer).
Things come to a head when Gloria and Gail have an encounter in a restaurant, leaving the younger woman devastated. Sam rushes home to save Gloria from making a terrible mistake but, in horrendous weather conditions, both their lives may be at risk.
What Price Gloria? was directed by Alan J. Levi, the second of his six episodes for the show. The writer was Deborah Pratt.
In this episode Gerry and Iain considered whether there's anything slimier than a man who feels entitled.
The discussion continues in the comments below and please keep in touch with us on Twitter, Facebook and Instagram.
You can listen to the show here on the website, on Apple Podcasts, Spotify, YouTube, Pocket Casts, TuneIn, Stitcher, Google or wherever you find your podcasts.
What Price Gloria? was released in 1989. It is 48 minutes long and originally aired on the NBC network. It can be viewed on NBC's Peacock streaming service in the UK and on Roku in the United States. The show is available on DVD and Blu Ray in other countries.
---