The Americanization of Machiko – Episode 12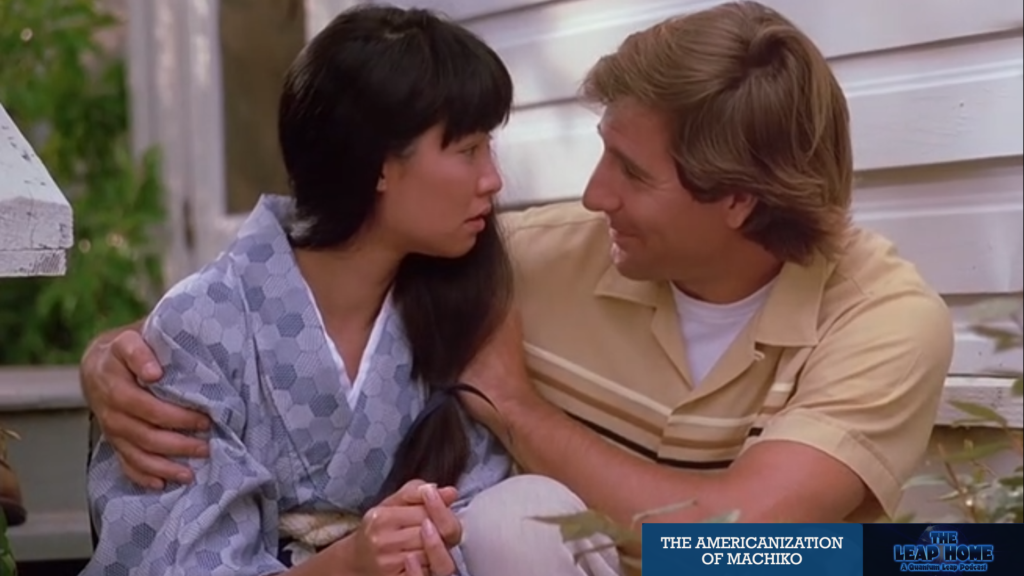 The Americanization of Machiko was the third episode of Quantum Leap's second season to air, with Sam looking to help his new bride integrate in his home town. In this episode Gerry and Iain discuss who should be apologising to who.
Podcast: Play in new window | Download
Subscribe: Apple Podcasts | Google Podcasts | Spotify | Amazon Music | Android | RSS
Sam leaps into a serviceman returning from a lengthy tour of duty abroad with his new Japanese bride, Machiko (Leila Lee Olsen). The revelation that he is married proves deeply challenging to his mother (K Callan) and his childhood girlfriend, Naomi (Elena Wohl), despite support from his father (Wayne Tippit).
Machiko finds it difficult to integrate with a racist local called Rusty (Patrick Massett) causing particular problems. Naomi only adds to her challenge with some malicious bad advice, before a confrontation with her new mother-in-law leads her to take a particularly poor decision.
The Americanization of Machiko was directed by Gilbert M. Shilton, the third of his four episodes for the show. The teleplay was written by Charlie Coffey.
In this episode Gerry and Iain considered a flimsy justification for egregious behaviour.
The discussion continues in the comments below and please keep in touch with us on Twitter, Facebook and Instagram.
You can listen to the show here on the website, on Apple Podcasts, Spotify, YouTube, Pocket Casts, TuneIn, Stitcher, Google or wherever you find your podcasts.
The Americanization of Machiko was released in 1989. It is 48 minutes long and originally aired on the NBC network. It can be viewed on NBC's Peacock streaming service in the UK and on Roku in the United States. The show is available on DVD and Blu Ray in other countries.
---