Disco Inferno – Episode 11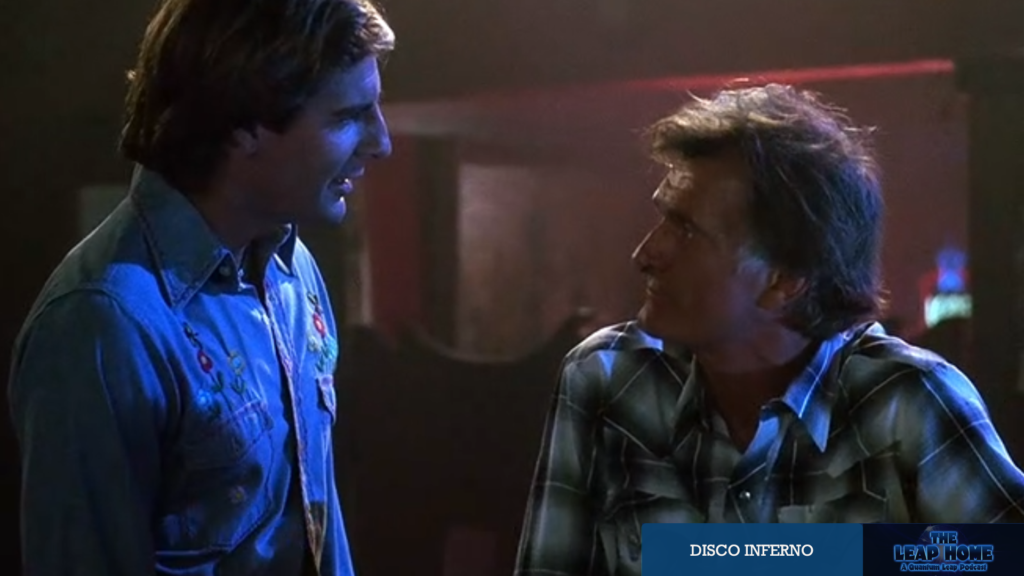 Disco Inferno was the second episode of Quantum Leap's second season to air, with Sam in the role of a stuntman whose father is putting undue pressure on his brother to join the family business. In this episode Gerry and Iain discuss whether parents always know best.
Podcast: Play in new window | Download
Subscribe: Apple Podcasts | Google Podcasts | Spotify | Amazon Music | Android | RSS
Sam leaps into a stuntman on a movie set, shortly before his father (Michael Greene) takes him and his brother (Kris Kamm) off the film on account of the director's poor safety practices. Learning that his brother's death is imminent, Sam tries to keep him away from stunt work, encouraging his musical side.
Their father, however, wants both his sons to join the family stunt business, with younger brother Chris due to qualify imminently. Tension between the two, however, sees Chris team up with the unsafe director and put his life on the line for his work..
Disco Inferno was directed by Gilbert M. Shilton, the second of his four episodes for the show. The teleplay was written by Paul Brown.
In this episode Gerry and Iain considered what makes a good career.
The discussion continues in the comments below and please keep in touch with us on Twitter, Facebook and Instagram.
You can listen to the show here on the website, on Apple Podcasts, Spotify, YouTube, Pocket Casts, TuneIn, Stitcher, Google or wherever you find your podcasts.
Disco Inferno was released in 1989. It is 48 minutes long and originally aired on the NBC network. It can be viewed on NBC's Peacock streaming service in the UK and on Roku in the United States. The show is available on DVD and Blu Ray in other countries.
---