Honeymoon Express – Episode 10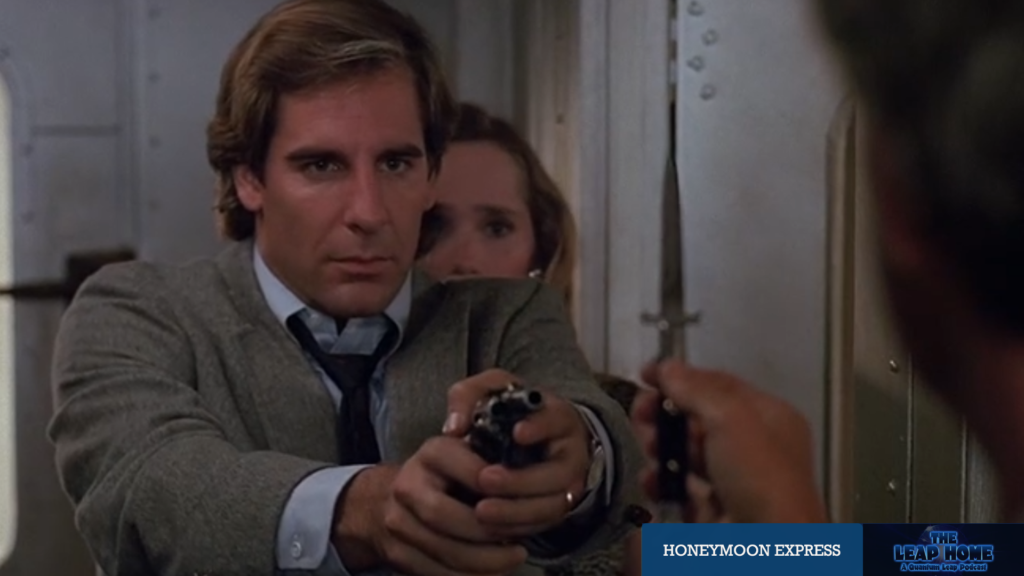 Honeymoon Express was the first episode of Quantum Leap's second season to air, with Sam doing his best to save a newlywed from her villanous ex-husband without making her suspicious about why he doesn't want to sleep with her. In this episode Gerry and Iain discuss the fundamental mistake Sam keeps making when he takes on another persona.
Podcast: Play in new window | Download
Subscribe: Apple Podcasts | Google Podcasts | Spotify | Amazon Music | Android | RSS
Sam leaps into a newlywed, on board a train to Niagara Falls for his honeymoon, along with his new bride Diane (Alice Adair). Unbeknown to the couple, however, Diane's ex-husband Roget (Mathieu Carriere), a violent Frenchman, is on board to recover her and hold her to the vows she previously made to him – and is willing to kill Sam to do it, if that's what it takes.
Meanwhile, Al is at a Senate hearing where he has to justify the ongoing funding of the Quantum Leap project. This leads him to try and persuade Sam to intervene in a matter of national significance, much to his friend's confusion.
Honeymoon Express was directed by Aaron Lipstadt, the last of his three episodes for the show. The teleplay was written by Donald P. Bellisario.
In this episode Gerry and Iain considered whether Sam's moral block could expose him.
The discussion continues in the comments below and please keep in touch with us on Twitter, Facebook and Instagram.
You can listen to the show here on the website, on Apple Podcasts, Spotify, YouTube, Pocket Casts, TuneIn, Stitcher, Google or wherever you find your podcasts.
Honeymoon Express was released in 1989. It is 48 minutes long and originally aired on the NBC network. It can be viewed on NBC's Peacock streaming service in the UK and on Roku in the United States. The show is available on DVD and Blu Ray in other countries.
---