Play it Again, Seymour – Episode 9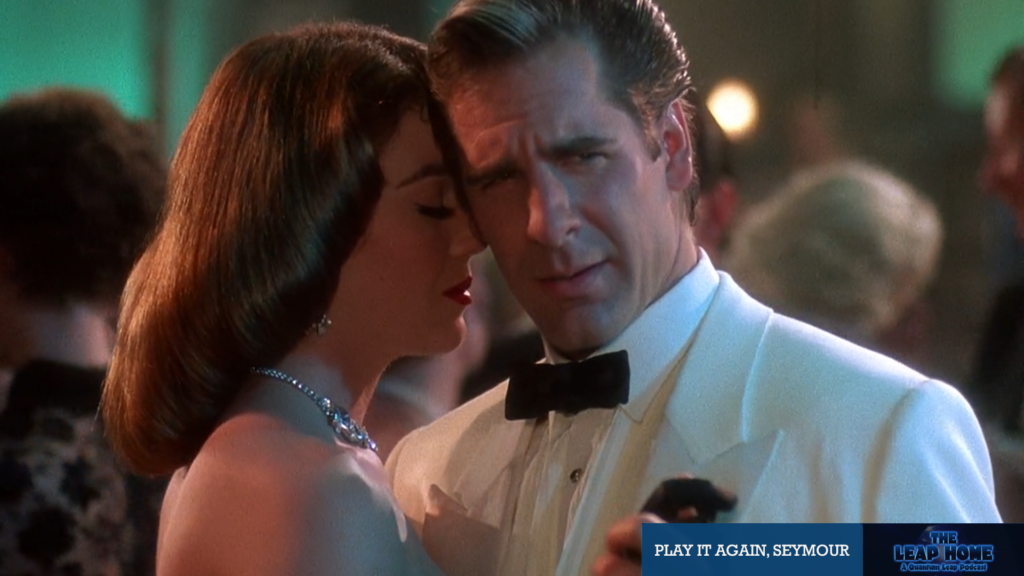 Play it Again, Seymour was the ninth and final episode of Quantum Leap's first season to air, with Sam trying to track down his partner's killer before his partner's killer tracks down Sam. In this episode Gerry and Iain discuss the timeless popularity of this kind of story.
Podcast: Play in new window | Download
Subscribe: Apple Podcasts | Google Podcasts | Spotify | Amazon Music | Android | RSS
Sam leaps into a murder scene, finding himself with gun in hand over the bullet-riddled corpse of his partner. The cops are on hand to swiftly arrest him, but soon have to let him go when ballistics clears him of involvement. Returning to his office he meets his partner's new widow, Allison Grimsley (Claudia Christian), with whom he, as Nick Allen (Tony Heller), seems to be in love.
With assistance from an enthusiastic wannabe gumshoe, Seymour (Willie Garson) and some advice from Al, who's read the book about this case, Sam tracks the killer to La Guardia airport where he is revealed to be the building's landlord Lionel (Paul Linke) who is obsessed with Allison.
Play it Again, Seymour was directed by Aaron Lipstadt, the second of his three episodes for the show. The teleplay was written by Scott Shepherd and Donald P. Bellisario from a story credit to the two of them and Tom Blomquist.
In this episode Gerry and Iain considered whether it was possible to work out the killer before the reveal.
The discussion continues in the comments below and please keep in touch with us on Twitter, Facebook and Instagram.
You can listen to the show here on the website, on Apple Podcasts, Spotify, YouTube, Pocket Casts, TuneIn, Stitcher, Google or wherever you find your podcasts.
Play it Again, Seymour was released in 1989. It is 48 minutes long and originally aired on the NBC network. It can be viewed on NBC's Peacock streaming service in the UK and on Roku in the United States. The show is available on DVD and Blu Ray in other countries.
---