The Color of Truth – Episode 7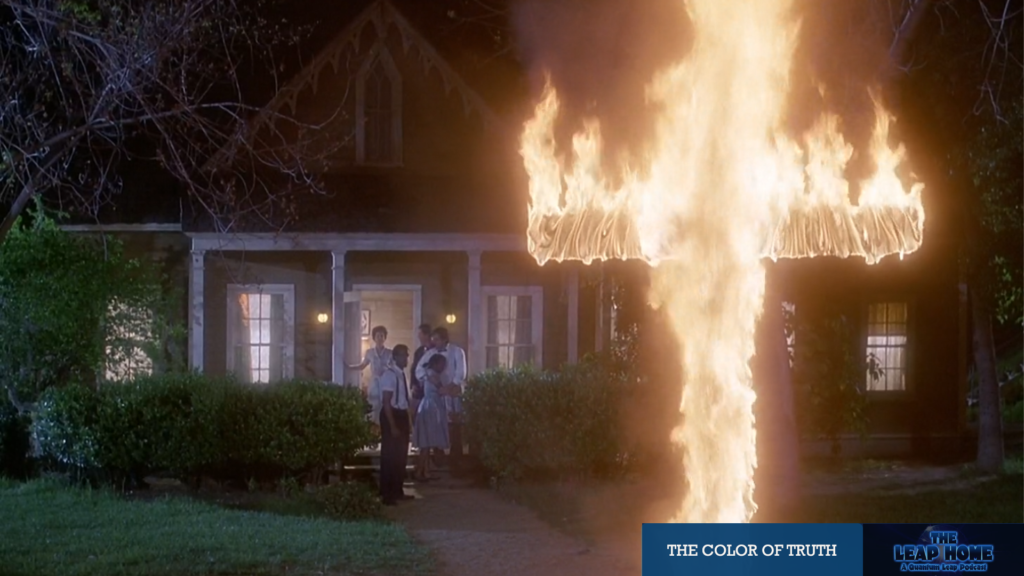 The Color of Truth was the seventh episode of Quantum Leap's first season to air, with Sam facing prejudice and outright hate as a black servant in 1955 Alabama. In this episode Gerry and Iain discuss different forms of racism and Sam's own problematic attitudes.
Podcast: Play in new window | Download
Subscribe: Apple Podcasts | Google Podcasts | Spotify | Amazon Music | Android | RSS
Arriving in a 1955 diner and assuming he is a white man, Sam sits at the counter and causes outrage when it becomes apparent that he is Jesse Tyler (Howard Johnson), a black man and therefore not permitted to dine with the local whites. Further perceived outrages cause leading local racists Billy Joe Blount (Michael Kruger) and Toad (Jeff Tyler) to seek restitution.
With Sam deviating from Jesse's usual routine to try and prevent the death of his employer Miz Melanie Trafford (Susan French), his granddaughter Nell (Kimberly Bailey) falls victim to a racist attack, leading Sam to take her to a 'whites only' hospital, where Miz Melanie ensures she is treated. Sam, however, is arrested by Sheriff Blount (Royce D. Applegate) for a breach of segregation laws, putting his efforts to protect Melanie in jeapordy.
The Color of Truth was directed by Michael Vejar, his only episode for the show. The teleplay was written by co-producer Deborah Pratt.
In this episode Gerry and Iain considered the culinary value of offal.
The discussion continues in the comments below and please keep in touch with us on Twitter, Facebook and Instagram.
You can listen to the show here on the website, on Apple Podcasts, Spotify, YouTube, Pocket Casts, TuneIn, Stitcher, Google or wherever you find your podcasts.
The Color of Truth was released in 1989. It is 48 minutes long and originally aired on the NBC network. It can be viewed on NBC's Peacock streaming service in the UK and on Roku in the United States. The show is available on DVD and Blu Ray in other countries.
---