Double Identity – Episode 6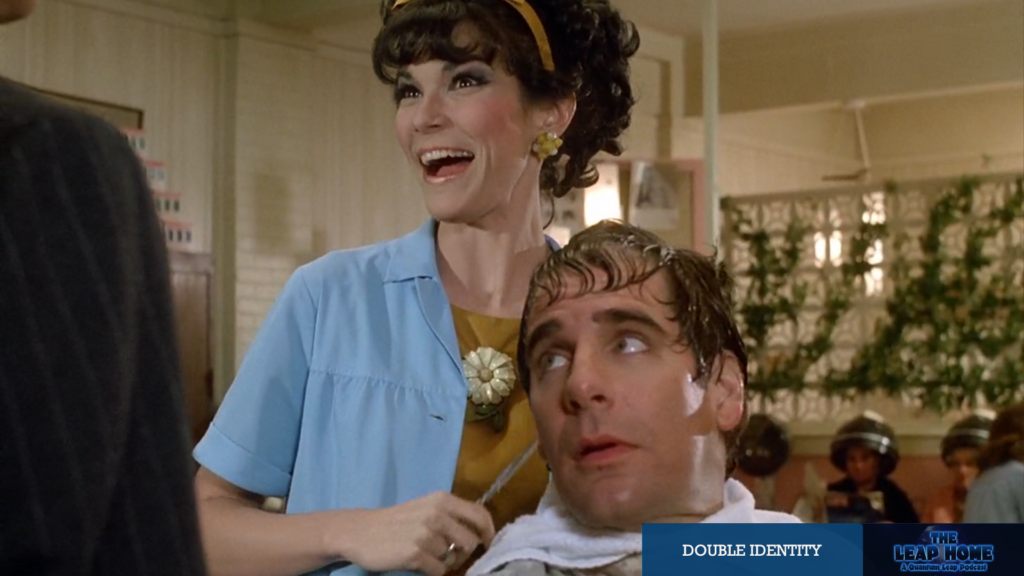 Double Identity was the sixth episode of Quantum Leap's first season to air, with Sam placed in the middle of a mob wedding with a secret to keep. In this episode Gerry and Iain discuss stereotypes and the glorification of violence.
Podcast: Play in new window | Download
Subscribe: Apple Podcasts | Google Podcasts | Spotify | Amazon Music | Android | RSS
Slipping into the persona of Frankie (Page Mosely), a mafia hit-man, Sam finds himself immediately post-coital with a word of thanks from Teresa (Terri Garber) for his efforts. If she's lyin', she's dyin'. Unfortunately she's also just split from rival Godfather Geno Frascotti (Mike Genovese) who doesn't want to see her dallying with any other man.
Unperturbed, Sam pursues Teresa while trying to pull the wool over Don Geno's eyes with help from his brothers Primo (Nick Cassavetes) and Segundo (Tom Silardi) and from his father, Tony (Joe Santos). Geno's henchman Adriano (Mark Margolis) blows their cover, setting up an identity-swapping finale as Sam and Al try to facilitate his return to the present.
Double Identity was directed by Aaron Lipstadt, the first of his three episodes for the show. The teleplay was written by creator Donald P. Bellisario.
In this episode Gerry and Iain considered whether Al is always truthful.
The discussion continues in the comments below and please keep in touch with us on Twitter, Facebook and Instagram.
You can listen to the show here on the website, on Apple Podcasts, Spotify, YouTube, Pocket Casts, TuneIn, Stitcher, Google or wherever you find your podcasts.
Double Identity was released in 1989. It is 48 minutes long and originally aired on the NBC network. It can be viewed on NBC's Peacock streaming service in the UK and on Roku in the United States. The show is available on DVD and Blu Ray in other countries.
---