How the Tess Was Won – Episode 5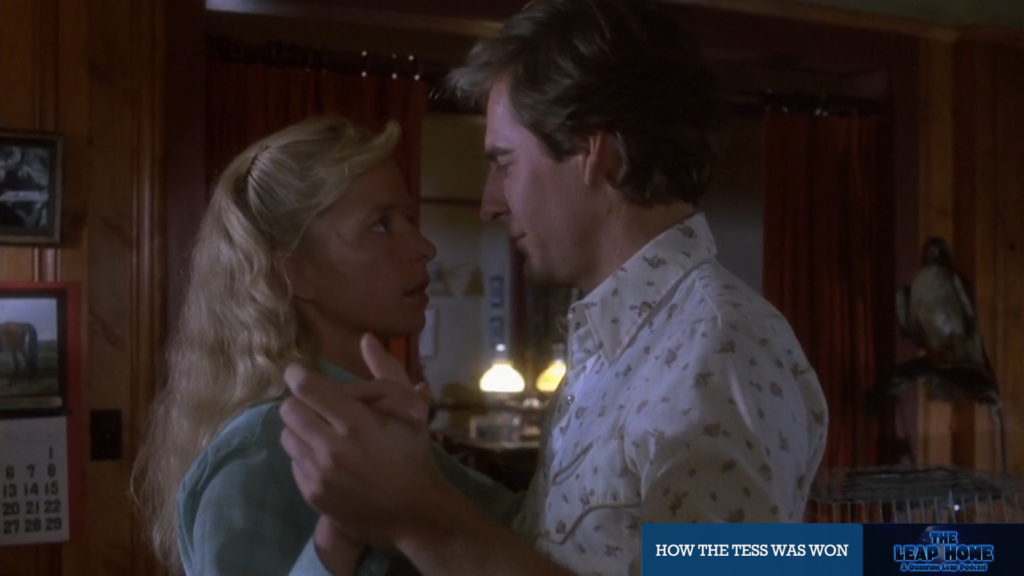 How the Tess Was Won was the fifth episode of Quantum Leap's first season to air, with Sam drawn into a physical contest to win a woman's handin marriage and her substantial land holding. In this episode Gerry and Iain discuss whether romance is dead.
Podcast: Play in new window | Download
Subscribe: Apple Podcasts | Google Podcasts | Spotify | Amazon Music | Android | RSS
Taking on the persona of vet Dr Daniel Young, or 'Doc' (Sloan Fischer), Sam finds himself selected as an apparently easy mark by Tess McGill (Kari Lizer) who is resisting her father Chance's (Lance LeGault) urgings to choose a suitor for marriage.
Sam's farm upbringing and physical prowess, however, mean the contest is closer than Tess expected and with the prospect of marrying Doc becoming real she is forced to investigate her own feelings. Meanwhile, ranch hand Wayne (Marshall R. Teague) looks to intervene while a young boy (Scott Fults) strums a future classic on his guitar.
How the Tess Was Won was directed by Ivan Dixon, his only episode for the show. The teleplay was written by Deborah Arakelian, also her only script for the series.
In this episode Gerry and Iain considered gender roles and stereotypes.
The discussion continues in the comments below and please keep in touch with us on Twitter, Facebook and Instagram.
You can listen to the show here on the website, on Apple Podcasts, Spotify, YouTube, Pocket Casts, TuneIn, Stitcher, Google or wherever you find your podcasts.
How the Tess Was Won was released in 1989. It is 48 minutes long and originally aired on the NBC network. It can be viewed on NBC's Peacock streaming service in the UK and on Roku in the United States. The show is available on DVD and Blu Ray in other countries.
---