Star-Crossed – Episode 3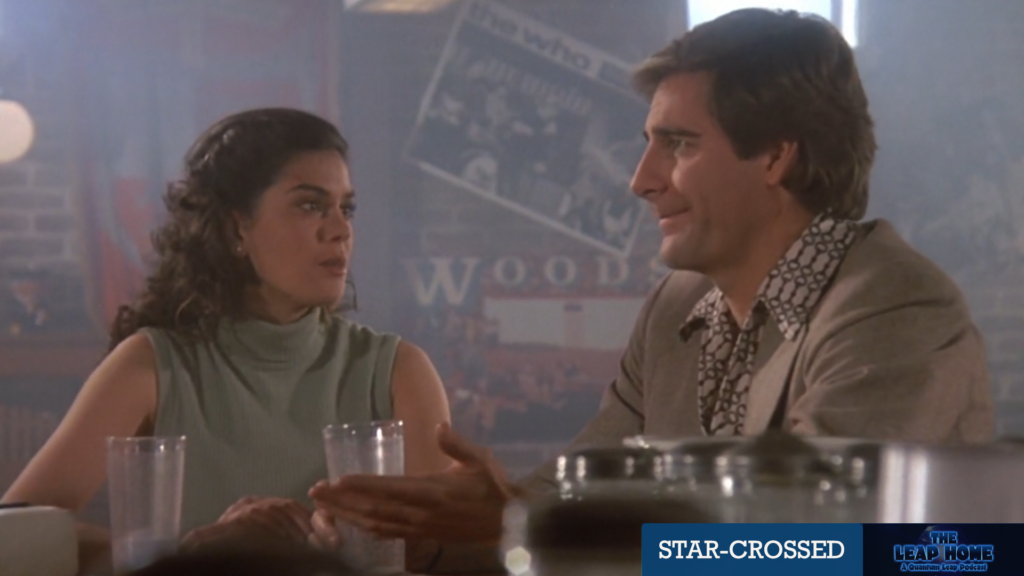 Star-Crossed was the third episode of Quantum Leap's first season to air, with Sam finding himself in the body of an English Literature professor with an eye for the young girls in his class. In this episode Gerry and Iain discuss the power of words.
Podcast: Play in new window | Download
Subscribe: Apple Podcasts | Google Podcasts | Spotify | Amazon Music | Android | RSS
Sam is now in the body of Dr Gerry Bryant (John Tayloe), an alcoholic English Lit professor with a way for words. Al informs him that Bryant is set to marry one of his young students, Jamie Lee (Leslie S. Sachs) and Ziggy thinks his mission is to prevent that from happening.
Sam, however, has other ideas. He has spotted a young Donna Eleese (Teri Hatcher) who in his timeline went on to meet and fall for him, before leaving him standing at the altar. He thinks he can help her resolve issues with her estranged father, Col. Wojohowitz (Michael Gregory), before he ships out to Vietnam and perhaps help Jamie Lee and Oscar (Michael McGrady), her other suitor, find love too.
Star-Crossed was directed by Mark Sobel, his only episode for the show. The teleplay was written by Deborah Pratt, the first of her twenty episodes.
In this episode Gerry and Iain considered whether romance is dead.
The discussion continues in the comments below and please keep in touch with us on Twitter, Facebook and Instagram.
You can listen to the show here on the website, on Apple Podcasts, Spotify, YouTube, Pocket Casts, TuneIn, Stitcher, Google or wherever you find your podcasts.
Star-Crossed was released in 1989. It is 48 minutes long and originally aired on the NBC network. It can be viewed on NBC's Peacock streaming service in the United States and in the UK. The show is available on DVD and Blu Ray in other countries.
---