Genesis: Part 2 – Episode 2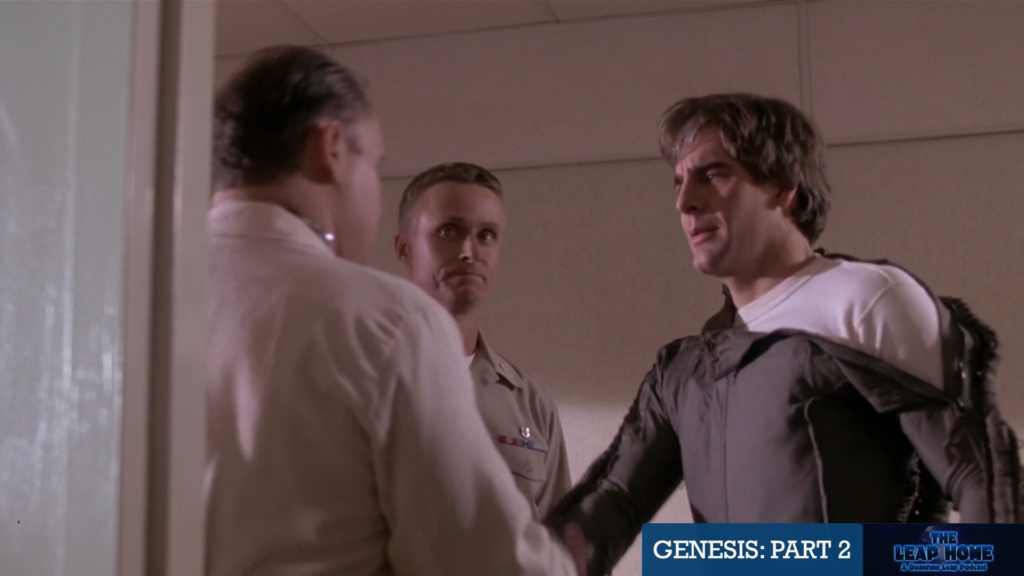 Genesis: Part 2 was the second episode of Quantum Leap's first season to air, with Sam completing his first leap before finding himself in the body of a minor league baseball player. In this episode Gerry and Iain discuss the stakes and consequences of each leap.
Podcast: Play in new window | Download
Subscribe: Apple Podcasts | Google Podcasts | Spotify | Amazon Music | Android | RSS
With an assist from Al, Sam is able to complete his task and leap from Tom Stratton's body having saved both his life and that of his unborn daughter, Samantha. He next finds himself in the guise of Tim Fox (Ken Martin), a ball player in the middle of his final match.
With constant reminders of mortality from the game announcer (Doug Cox), exhortations from an old man in the crowd (Patrick Cranshaw) and an earnest urging from his manager (Lee de Broux), Sam must emotionally recover from a conversation with his father (Newell Alexander) to play a role in the game's conclusion.
Genesis: Part 2 was again directed by David Hemmings, the second of his three episodes for the show. The teleplay was written by creator Donald P. Bellisario the second of his nineteen stories.
In this episode Gerry and Iain considered whether second-last place is meaningfully better than finishing bottom of the pile.
The discussion continues in the comments below and please keep in touch with us on Twitter, Facebook and Instagram.
You can listen to the show here on the website, on Apple Podcasts, Spotify, YouTube, Pocket Casts, TuneIn, Stitcher, Google or wherever you find your podcasts.
Genesis: Part 2 was released in 1989. It is 45 minutes long and originally aired on the NBC network. It can be viewed on NBC's Peacock streaming service in the United States and in the UK. The show is available on DVD and Blu Ray in other countries.
---