Genesis: Part 1 – Episode 1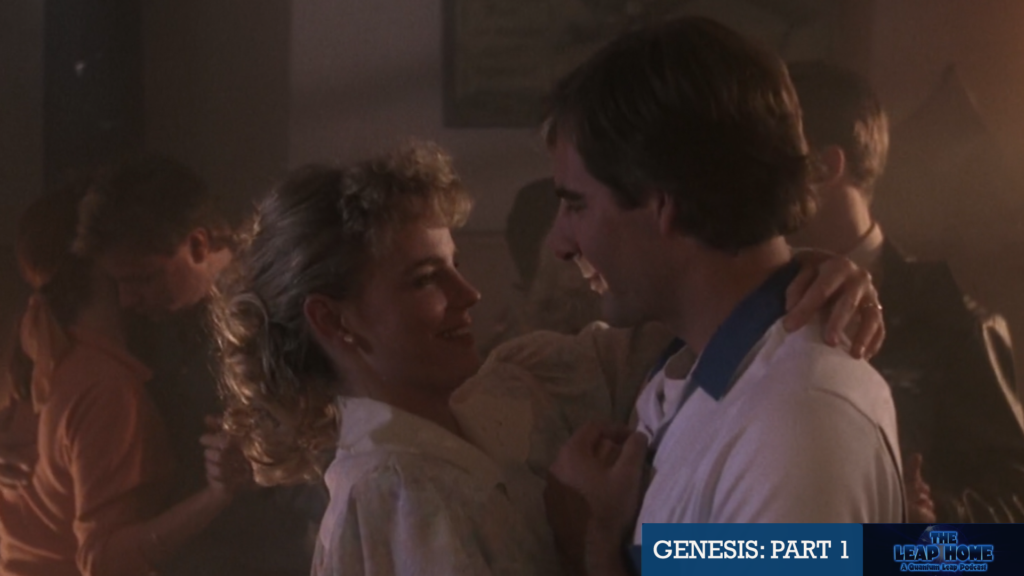 Genesis: Part 1 was the first episode of Quantum Leap's first season to air, with Dr Sam Beckett prematurely initiating a time travel experiment that leaves him in the past, in the body of another man. In this episode Gerry and Iain discuss their plans for the series and some of the physics of Leaping.
Podcast: Play in new window | Download
Subscribe: Apple Podcasts | Google Podcasts | Spotify | Amazon Music | Android | RSS
After initiating the Quantum Leap experiment prematurely, Dr Sam Beckett (Scott Bakula) finds himself in the body of another man. A man with a pregnant wife named Peg (Jennifer Runyon) and a job as a test pilot.
Unable to pilot an aircraft, Sam leans on Tom's friend Cpt. Bird Dog Birdell (John Allen Nelson) to keep his secret from 'Weird' Ernie (Bruce McGill) and the rest of their team. Birdell thinks Sam is playing an elaborate prank, but as time goes on both he and Peg begin to have their suspicions.
Genesis: Part 1 was directed by legendary actor David Hemmings, the first of his three episodes for the show. The teleplay was written by creator Donald P. Bellisario the first of nineteen episodes from his pen.
In this episode Gerry and Iain considered expected standards of childcare around running water.
The discussion continues in the comments below and please keep in touch with us on Twitter, Facebook and Instagram.
You can listen to the show here on the website, on Apple Podcasts, Spotify, YouTube, Pocket Casts, TuneIn, Stitcher, Google or wherever you find your podcasts.
Genesis: Part 1 was released in 1989. It is 45 minutes long and originally aired on the NBC network. It can be viewed on NBC's Peacock streaming service in the United States and in the UK. The show is available on DVD and Blu Ray in other countries.
---